Md. county to give 7.9% pay raise to career firefighters, EMTs
County executive says the raise will help the county remain competitive with other jurisdictions
---
By Steve Bohnel
The Frederick News-Post, Md.
FREDERICK, Md. — County Executive Jan Gardner (D) has announced a nearly 8% pay raise for the county's career firefighters and EMTs, starting Oct. 26.
In an email to acting Fire Chief Tom Coe and county firefighters — including Stephen Jones, president of the Career Firefighters Association of Frederick County Local 3666, the county's career firefighter union — Gardner said the raise was to help the county remain competitive with other jurisdictions and show her appreciation to the department.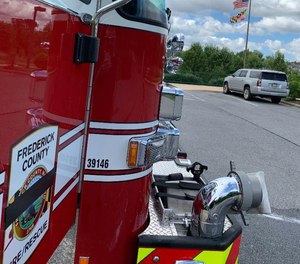 The pay raise comes as the county and firefighters union continue negotiations as a result of the binding arbitration amendment passed in November 2018 known as Question D. Gardner said, however, that the raises aren't connected to those contract negotiations.
Gardner emphasized that last point in an interview Monday, and said the timing of the raises was to make the county more competitive with nearby jurisdictions, regarding recruitment and retention of firefighters.
The division of Fire and Rescue Services has more than 20 vacancies, Gardner said. She added that savings from those vacancies and reducing overtime pay, through recruiting and retaining firefighters, should help pay for the increases.
"We're going to see how the money flows, and I may later in the year have to come back to the County Council for a supplemental budget," Gardner said. "But at this point we're going to see how it plays out."
The new annual base salary for a firefighter in his first year at Firefighter I status is $44,928. A fire medic will make $50,855, a lieutenant will earn $59,045 and a captain will make $63,338 in their first year on the scale.
A pay and benefits study, released by the county earlier this year, compared the county with various jurisdictions regionally. In 2018, a new firefighter in Frederick County made $41,602.60. In Montgomery County, the same position paid $46,166.
In Howard County, that position was paid $59,779.20 in 2018. In Loudoun County, Virginia, it was $43,636.
Jones said he appreciated the across-the-board raises.
"We are excited the county executive recognized our requests for public safety improvements in Frederick County," he said in a prepared statement. "These steps are appreciated as we move forward implementing Question 'D' from November 2018. We want to continue to work with the Executive and Council to improve recruitment and retention — we all want the best public safety services for our County residents."
Gardner said in her email the new scale will take effect Oct. 26 because of timing with the firefighters' "next feasible" pay cycle through the Fair Labor Standards Act and working the changes into the county's payroll system.
She added county officials will start to improve the way overtime is calculated for firefighters, and are investigating a Deferred Retirement Option Program, or DROP, for all public safety employees.
Division of Fire and Rescue Services employees "have fallen behind because negotiations have not been fruitful over the past couple of years and both you and the system have suffered as a result," Gardner wrote. "I want you to know that I, along with acting Chief Tom Coe and the entire leadership team, truly appreciate your dedicated service to the citizens of Frederick County."
In regard to the DROP program, Gardner said county officials are reviewing what that would cost the county and how it would affect the county's current pension system, and noted that different jurisdictions have different variations.
She and Coe both said that recruitment and retention was a key reason for the timing of the raises. Coe said from 2018 through Monday, his department lost 27 employees — and a dozen of them moved to a new fire or EMS department.
"There's a lot of jurisdictions that surround Frederick County that are offering lateral transfer packages, so previously trained firefighters that go to their jurisdiction with the training they received in Frederick [County]," Coe said. "And we really hope these improvements in compensation work to keep folks that are trained in Frederick County, in the county, to serve the citizens of Frederick County who invested in their initial training."
———
©2019 The Frederick News-Post (Frederick, Md.)
McClatchy-Tribune News Service