An out-of-the-box strategy to increase compensation
Instead of giving stock to its executive team, Ambulnz gave it to its frontline responders, and paired it with a novel push-to-request dispatch system
---
Last year, the median annual wage for EMTs and paramedics in the U.S., according to the Bureau of Labor Statistics, was reported at $35,400. The lowest paid 10% of EMS providers earned more than $11,000 less.
This issue of low wages for EMS providers has forced many to take on two or more jobs, contributing to emotional and physical exhaustion.
This combination of salary and the physical and emotional demands of the job has become a major sticking point in EMS – driving many frustrated personnel away from the profession.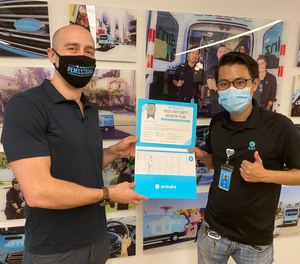 Stan Vashovsky, a 25-year veteran paramedic, described this situation as a lose-lose scenario for EMS providers. To help turn the current paradigm around, Vashovsky teamed up with software developer Anthony Capone to create an out-of-the-box, digital ambulance service solution.
Ambulnz's unique solution
Ambulnz, which was founded by Vashovsky in 2015, currently operates in eight states throughout the U.S.; Pennsylvania, California, New York, New Jersey, Illinois, Tennessee, Colorado and Texas.
The company, whose teal-colored rigs have become a viral sensation, has a total of 1,500 employees; 1,450 of which are EMTs and paramedics. They also employ nurses, respiratory therapists and wheelchair van drivers, many of whom are W-2 employees.
Ambulnz's business model focuses on interfacility transfers, achieved by using its push-to-request dispatch system.
"Through the use of technology, you increase efficiency," Capone said.
Many have made the mistake of comparing Ambulnz to Uber, but Capone said their solution is a lot more complicated than just ordering an ambulance.
"There's a lot that goes into providing that kind of care," he said. "An ambulance is bed-to-bed, bedside-to-bedside, as opposed to curb-to-curb, which is Uber. Just from the transportation perspective, not even the clinical care perspective, it's so much more complicated. For example, with Uber, you can use your credit card, whereas we're in the complicated medical billing space."
Most of Ambulnz's ordered ambulance transportation is requested via one of Ambulnz's applications.
"We have an iOS application in the app store and we're embedded inside various different EMRs like Epic and Allscripts," Capone said. "We've got our own online ordering portal, so we have all these different mechanisms by which various different providers will procure transports – and that comes in digitally."
And, unlike Uber, which allows anyone with the app to request a transport, only authorized medical professionals can request and procure transport for a patient.
Efficiency in EMS
This efficiency, according to Capone, has given Ambulnz a unique opportunity to not only provide better care to its patients, but offer better pay, hours and benefits to their EMTs and paramedics.
"They don't need to work such crazy long shifts, like working 24s or 18s," he said. "They can go back to working eight to 10, which means that they are going to provide better care to patients. They're going to be more alert and oriented."
The company's unique software solution, he says, gives a new meaning to efficiency in EMS.
"Because we're using software to underlie the entire thing, that's how we achieve that efficiency," Capone explained. "You'll be able to actually be on time more. You'll get better ETAs, higher on-time compliance and greater transparency into both the real-time transports as well as the reporting on how well you are doing with your customers."
This fundamental concept of using technology to increase efficiency, he says, turns a lose-lose into a win-win.
"I had this opportunity to say, 'Oh, wow. I can maybe use some of the skills that I have on the software side to allow for human beings to receive better care and to allow for those that are providing the care to be paid more and to have a living wage, to build a career,'" Capone said.
Giving EMTs and paramedics an entrepreneurship opportunity to turn their job into a career, Capone said, has been at the forefront of Ambulnz's mission since day one.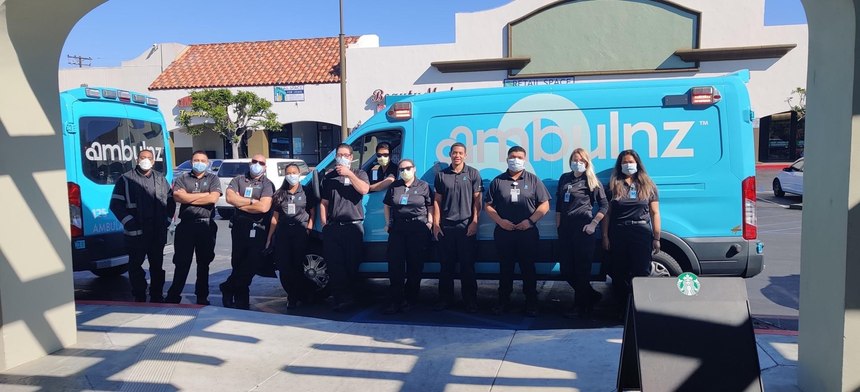 Finding a way to attract, retain and motivate personnel
Figuring out how to incentivize and offer more to their staff, Capone said, was difficult.
"It's nice to say it, but to actually be able to find additional margin in the business that you can give back is not easy," he said. "Reimbursements are very low and costs are high, whether it be insurance, payroll or workers' compensation. It's just very high."
However, Vashovsky and Capone were committed to taking one step every year toward increasing what they can offer to their employees.
For instance, they offered an incentive program – a per-trip bonus – their first year. The next year, they committed to providing health, dental and eye insurance. And, before approaching their third year, Capone said they started brainstorming ways to make EMTs and paramedics "true partners and entrepreneurs in the business."
That's when they came up with their Equity Incentive Plan as a way to attract, retain and motivate personnel.
"In the beginning, it was a little complicated for some people because equity ownership is something that is not perhaps familiar to many of them," Capone said. "We built a FAQ structure and did some Zoom sessions in explaining it to everyone and where they're at."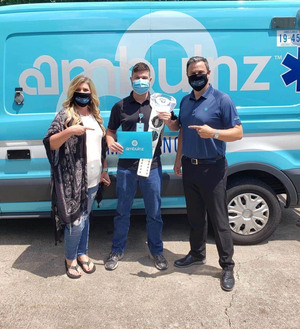 Instead of giving stock to their executive team first, Ambulnz gave it to their frontline responders.
"We wanted to give it to the people that are actually providing care – the ones that are going and putting themselves at risk in the back of the ambulance every day," Capone said. "The people that should get the ownership and the rewards first are the people who are out there in the field."
Employees were then presented with formal certificates of which equity units they were receiving. Many of those EMTs and paramedics, Capone said, now regularly message him about the health of the company.
"They message me asking, 'Hey, are we about to hit our budget? How's our earnings doing?' That's not something you would normally ever hear an EMT or paramedic ask you about," Capone said. "The people that are asking the questions are also the people that have been awarded equity."
And, out of the EMTs and paramedics who were awarded the equity units, none of them have left Ambulnz.
"They're staying because they know that the equity units are theirs and they want to be an Ambulnz employee," Capone said. "And, that has shown in retention. We're doing this because the people that we have, we care about."
Offering the equity units, Capone said, has been a complicated, yet rewarding process.
"You'll find that the people that work for you will end up working harder for you, and they will care more," he said. "They'll care more on the things that are measurable, like how many trips they do in a shift, which correlates to your utilization and your profitability."
The company's EMTs and paramedics, he said, look at it as the perspective of, "'I want my company to succeed, because I am invested in this company,'" Capone said.
"They're going to care more about customer service, because now when they go into the hospital, do a pickup or interact with a patient, they're not just representing some company that pays them minimum wage, they're representing their company."
This mentality, he said, changes the game.
Giving a piece of the company back
The benefits of the program, Capone said, are quantifiable and tangible. However, they're also extraordinarily beneficial.
"Our hope in doing this is that it becomes a standard in the EMS space – for EMS companies to start giving a piece of the company back to the people," he said.
Put it into practice
From a practical perspective, EMS agencies considering a similar move must first educate their employees on their investment.
"If you hand somebody a stock certificate, then you need to do a quick Q&A with them," Capone recommended. "If they don't have the right comprehension, then they might not appreciate the actual value."
Once EMS providers understand the financial and investment benefits, Capone said it's equally as important to celebrate and congratulate each recipient.
"Celebrate it very, very publicly," he said. "Not because you want to self-congratulate the company, but because you want to truly congratulate the people. It's an amazing accomplishment and it needs to be appreciated.
As for what benefit Ambulnz has in the works for its employees next year, Capone said they're working on something even bigger.
"Our focus is to make sure that our people not only can provide for themselves and their family now, but hopefully they can provide for themselves and their family later as well," he said.
Read next: 3 ways you're losing EMS providers and how to stop the revolving door