Body-worn camera footage shows Baltimore medic warning about positional asphyxia
BWC footage captures medic telling officers not to lay the suspect facedown in a fatal in-custody investigation
---
By Dan Belson
Baltimore Sun
BALTIMORE — A Baltimore paramedic warned officers on the scene of a July police response that preceded a man's death in custody not to restrain the 29-year-old in a stretcher with his face down, body camera footage released Tuesday shows.
The footage released by the Maryland Attorney General's Office does not show what happened inside the ambulance where investigators say Trea Ellinger, a Glen Burnie resident, became unresponsive before dying at a hospital. The clips from the perspective of two different Baltimore Police officers who responded show Ellinger being placed on a stretcher first on his side, but ultimately rotating onto his stomach as he was being restrained.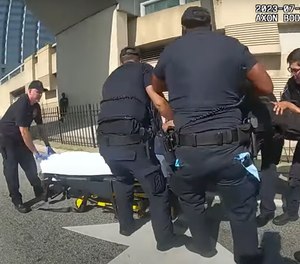 Baltimore Police and the Attorney General's Independent Investigations Division, which probes deaths in police custody statewide, are investigating the July 25 encounter.
In a news release last month, the IID said police and paramedics responded to the 200 block of South Howard Street, next to the Baltimore Convention Center, after a 911 caller reported a man was "lying in the middle of the street trying to kill himself and 'fighting people.'" MTA Police and Baltimore Police officers placed the man, identified later as Ellinger, in handcuffs and onto the stretcher on his side.
The officers and Baltimore Fire Department medics restrained him onto the stretcher, and he was in a prone position while being loaded into the ambulance, the IID said. While intended to help patients in respiratory distress, the practice of restraining people facedown is banned by some agencies, including BPD, as it can lead to breathing difficulties and cardiac arrest. The Office of the Chief Medical Examiner has not yet determined the cause and manner of Ellinger's death, a spokesperson said Tuesday.
The footage released Tuesday shows Baltimore Police officers Sharrod Mobley and Ryan Barnes-Klipa's response to the scene for around six minutes each. Ellinger is seen in the right turn lane surrounded by MTA Police officers, who are not equipped with body cameras, as the Baltimore Police officers arrive.
The fire department medic, who investigators did not identify, twice cautioned officers on how Ellinger should be positioned, the video shows.
"We just don't want him facedown," the paramedic says as officers are holding Ellinger down on his side. He proceeds to insert a syringe into Ellinger's arm.
"As long as he's not laying facedown, that'd be great," the medic says minutes later as officers proceed to lift Ellinger onto a stretcher, where he is placed on his side.
---

Read more:
Stand up, and speak out
EMS providers know positional asphyxiation can kill, and have a professional and moral obligation to object to it
---
But as the officers and paramedics tighten stretcher restraints on Ellinger for about a minute, he gradually appears to shift toward a prone position. He appears to be laying on his stomach with his head raised as he is loaded onto the ambulance. Investigators said Mobley's body camera remained activated in the ambulance and captured Ellinger receiving medical treatment, though they did not release that portion publicly "due to protections against the release of medical information under Maryland and federal law."
The state law passed in 2021 that established the Independent Investigations Division only grants the agency the "authority to investigate the actions of the law enforcement officers and not the emergency medical personnel in this case," the unit said in a news release. Baltimore Police are in an agreement with the Attorney General's Office to co-investigate police-involved deaths in their jurisdiction in order to satisfy terms in the federal consent decree approved in 2017.
The agency has not yet investigated a death that followed a prone restraint.
The family of a man whose death was ruled a homicide caused by being restrained facedown by Annapolis paramedics and officers in June 2021, a few months before the division took control of investigating in-custody deaths, sued the city last year on wrongful death grounds. That lawsuit is still pending, and a criminal misconduct charge against one paramedic involved was dismissed in July.
©2023 Baltimore Sun.
Visit baltimoresun.com.
Distributed by Tribune Content Agency, LLC.
RELATED:
McClatchy-Tribune News Service