Winter brings increased snowmobile trauma
Michigan EMS leaders share the challenges in locating, extricating and transporting victims of snowmobile crashes
---
Listed in the top 10 states for highest snowfall nationwide, Michigan averages nearly 70 inches of snow a year, with locally higher amounts in towns around the Great Lakes. With the snowfall comes increased calls for EMS related to the slippery, frozen precipitation, including skiing and snowmobile crashes.
I spoke with Mercy EMS CEO Patrick Boberg and Dr. Amadeo Sturla, a board-certified emergency physician, about the prevalence of snowmobile crashes and mechanisms of injury they experience.
Sturla, a former paramedic, has been a board-certified emergency physician for 8 years in the Upper Peninsula of Michigan. He currently is the emergency medical director at the Marshfield Medical Clinic-Dickinson and the medical director for Guardian Flight Great Lakes Region.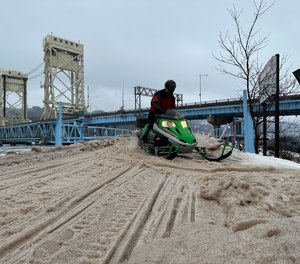 Boberg's agency operates seven ambulances covering Houghton and Keweenaw counties in the Upper Peninsula of Michigan, where in an average winter, they receive 270 inches of snow. 
"Do to our early, generally, large snow accumulation, we get a lot of out-of-towners that flock to the area to be able to ride [snowmobiles]," Boberg said.
Mechanisms of injury
In a snowmobile crash, the mechanisms of injury and death to drivers or passengers on the snowmobile or being towed behind include:
A direct hit with another object, such as fencing, wiring, trees, bridges or other vehicles
Rollovers
Drowning after falling through the ice
"Most commonly we see blunt trauma to the head and trunk," Sturla said. "Most of the severely injured suffer head and (cervical) spine injuries which are occasionally fatal. In my experience, extremity injuries that occur tend to favor the proximal long bones."
Operators and passengers often suffer injuries to their extremities and head. The 2005 article lists the most common cause of death being trauma to the head, neck or spinal cord; injury to internal organs; or drowning after the snowmobile falls through thin ice.
Facial trauma and fractures are reported with this type of crash and involve both hard and soft tissue injures. Fractures can include the maxilla, dento-alveolar, mandible, zygoma and nose. These injuries occur after the face has either contacted the front part of the snowmobile, like the handlebars, or more commonly by the face striking a stationary object, such as a rock, outcropping, fence post or barbed wire fencing. Barbed wire fencing often causes lacerations to the face. Lacking a helmet and excessive speed has been shown to increase the severity of the injury.
Boberg highlighted other challenges that EMS faces with these types of incidents, including pinpointing the exact location of the incident, the length of time to get to the patient's side and extricating the patient from the environment.
"These incidents take time. One, it is kind of a guessing game in what medical equipment we go into the scene with to treat these patients," Boberg said. "There have been cases as to where we had to put a traction splint on a patient while we are up to our waist in snow. Then having to package the patient and transport them out."
Boberg added that local volunteer fire departments now have offroad rescue equipment to transport EMS into the scene and then transport EMS and the patient out in cases where the patient is miles from the roadway on a snowmobile trail.
Multidisciplinary treatment approach
Patients involved in a snowmobile crash with injuries to the maxillofacial region usually require a multidisciplinary trauma team approach, including general surgeons, orthopedic surgeons, oral and maxillofacial surgeons, ophthalmologists and dentists. Treatment includes management of acute trauma lift support protocols developed by the American College of Surgeons.
In Mercy EMS' response area, Boberg noted that their agency provides the only way to be transported to a trauma center, with the local being UPHS-Portage.
"From there, they make the decision if this patient needs a higher level of care," Boberg said. "They either fly them or send them by ground ambulance."
Sturla noted there is currently only one Level II trauma center in the Upper Penninsula. "EMS personnel need to decide whether a patient needs immediate stabilization at a small critical access hospital versus going directly to the trauma center. It can be a tough call with long transport times and it's a decision that needs to be readdressed as the patient's condition changes," he said.
Air resources are a critical resource that need to be considered in these critically injured patients, Sturla added.
In Michigan, there are just over 100 listed trauma centers for adult and/or pediatric patients, designated levels I to V.
Level I trauma center. A Level I trauma center is a comprehensive regional resource that is a tertiary care facility central to the trauma system. A Level I trauma center can provide total care for every aspect of injury from prevention through rehabilitation, including: 24-hour in-house coverage by general surgeons, prompt availability of care in specialties such as orthopedic surgery, neurosurgery, anesthesiology, emergency medicine, radiology, internal medicine, plastic surgery oral and maxillofacial, pediatric and critical care.
Level II trauma center. A Level II designation indicates the center can initiate definitive care for all injured patients. The center facility has 24-hour immediate coverage by general surgery, in addition to specialty coverage. This coverage includes orthopedic surgery, neurosurgery, anesthesiology, emergency medicine, radiology and critical care. Tertiary care needs, such as cardiac surgery, hemodialysis and microvascular surgery may be referred to a Level I trauma center.
Level III trauma center. A Level III designation demonstrates the ability to provide prompt assessment, resuscitation, surgery, intensive care and stabilization of injured patients. The center has 24-hour immediate coverage by emergency medicine physicians and prompt availability of general surgeons and anesthesiologists.
Level IV trauma center. A Level IV designation provides evaluation, stabilization and diagnostic capabilities for injured patients. The center has basic emergency department facilities to implement treatment protocols and 24-hour laboratory coverage. Trauma nurses and physicians are available upon patient arrival. These centers may provide surgery and critical care services if they are available. The Level IV center demonstrates the ability to provide advanced trauma life support prior to transferring patient to a higher-level trauma center.
Level V trauma center. A Level V designation provides initial evaluation, stabilization and diagnostic capabilities, and prepares patients for transfer to higher levels of care. Centers are basic emergency department facilities that can implement ATLS protocols; have available trauma nurses and physicians available upon patient arrival; and after-hours activation protocols if the facility is not open 24-hours a day.
Snowmobile fatalities
In early January, the Michigan Department of Natural Resources-Law Enforcement Division released the 2022-2023 Michigan Snowmobile Fatality Summary, showing in 2022, six people died as a result of snowmobile accidents. Five of the six crashes involved the snowmobile striking a fixed object and the sixth was struck by a moving object.
Alger County; 50-year-old female failed to negotiate a curve in the trail, exited into a wooded area, striking several trees and was ejected from the snowmobile. Alcohol/drug use was suspected in this crash.
Cheboygan County; 60-year-old male aggressively accelerated after crossing the roadway and lost control. The snowmobile left the trail, striking a wooden post. According to the report, the patient died 12-days later due to injuries sustained in the crash. Drugs were suspected in this crash.
Calhoun County; 49-year-old male collided with a large rock after entering a field from the roadway. A female passenger was also injured.
Wexford County; 55-year-old male left the trail in a straight away and struck a tree. Alcohol and drugs were suspected in this crash.
Luce County; 55-year-old female operator was attempting to cross the highway and was struck by a vehicle. Alcohol and drugs were not involved.
Houghton County; 13-year-old female pulled to the side of the trail to allow oncoming snowmobiles to pass. The snowmobile's right ski dropped from the groomed surface and pulled the ATV off the trail. The operator inadvertently hit the throttle, causing further loss of control and crashed into a tree. Alcohol and drugs were not involved.
According to "The perils of snowmobiling" published in the Wisconsin Medical Journal in 2005, crashes are more likely to occur during the night or at dusk when the eyes are adjusting to the change in light conditions. February has been noted to be the most dangerous in terms of injuries, followed by January and then March.
Dr. Sturla shared that crashes tend to happen in low light hours with perhaps a slight increase on the weekends.
"We find most of our serious accidents occur in the later evening hours, but we do get a fair share of accident during the day," Boberg added.
Weekends and holidays have shown to have higher snowmobile crash rates associated with mortality.
Fatalities from snowmobile crashes may be due to excessive speed, inattention of the driver, carelessness, reckless driving, inexperienced drivers and poor visibility. Alcohol has been noted to be a major contributing factor, with almost half of incidents resulting in serious injury having a positive history of consuming alcohol prior to operating the snowmobile.
---

Read next:
Cold weather response tips for EMS
Move with purpose to prevent an apparatus crash, slip or fall, and protect the patient from increased discomfort
---