Pa. beach club dedicates lifeguard chair in honor of paramedic killed in ambulance crash
Nick Theofilis served the Rosedale Beach Club as a lifeguard and member of the swim team for several summers
---
By Michael DiVittorio
The Tribune-Review
VERONA, Pa. — The legacy of the late Nick Theofilis continues to grow as a new fixture memorializing the Penn Hills native was unveiled at the Rosedale Beach Club.
He served as a lifeguard there for several summers. A member of the club's swim team, Theofilis taught others how to swim and some life-saving techniques.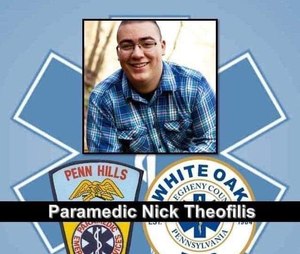 Theofilis, a Penn Hills EMS paramedic and volunteer firefighter at Penn Hills' Rosedale Fire Department, died on Nov. 27 while on duty driving an ambulance in Pittsburgh. He was 23.
A mixture of laughter and tears were on the faces of former colleagues, friends and family members gathered at the club for the dedication of a lifeguard chair in Theofilis' memory on May 26, a day before the pool opened.
"We're just here to salute his life," said club board member Daryl Saltzman. He stressed the need for folks to "rip the band-aid off" and think of the fun times with Theofilis as the community continues to mourn his loss.
"I want us to put the candles in the air," Saltzman said. "Nick has ascended and so are we."
The nearly six-foot chair was made out of recycled plastic and constructed by Tailwind Furniture of Cortland, Ill. It is bolted down across from the pavilion near the pool's three-foot marker. A blue and white life preserver ring hangs near the right armrest.
A plaque was installed underneath the back of the seat and lists some of Theofilis' accomplishments, such as being on the club's swim team, being a lifeguard, earning Eagle Scout honors, serving as the club's board president, becoming a firefighter, Penn Hills paramedic and member of White Oak EMS.
The message "Always Looking Over Us" was written above his name on the plaque.
Theofilis' parents, Lori and Peter Theofilis were the first to get a close look at the memorial once the tarp was removed.
"He grew up here," Lori Theofilis said. "It meant a lot to him. They meant a lot to him and I didn't know what to expect. To have everything listed that he did is wonderful. We've gotten through (this tough time) because everybody has been so supportive of us. Not just here at Rosedale, but everywhere in the community. He knew a lot of people."
The club hosted a private dinner for the family prior to the dedication. Food was donated by the Old Village Grille, the Penn Hills restaurant where Theofilis worked.
Fitzhenry held back tears as she addressed the Rosedale crowd.
"Nick was one of a kind," she said. "The kindest, funniest guy you ever wanted to know. I was grateful to know him for about 10 years, and glad we were able to bring him on board as a Penn Hills paramedic. That was something that he always wanted to do.
"We feel his loss every day. With some of the crazy little things that happen in our building, we also feel his presence every day. When something really bizarre goes on we always say, 'Must be Nick.' He's never far from our minds and he's always in our hearts. I'm sure most of you feel the same way."
The Rev. David A. Eichelberger, past master of Infinity Lodge No. 546 in Penn Hills, offered a prayer and talked about Theofilis' journey to becoming a Freemason.
"We're struck by the quality of the man that he was becoming," Eichelberger said. "We were excited by what we saw. We dreamed great dreams for Nick of all that he would contribute to our fraternity, but also to Penn Hills and to the world. We join with you all in our sorrow at what was taken from us in that tragic accident. ... We encourage each one of us to live life as brightly and as fully dedicated to serving one another as Nick did in his all too brief life."
The ceremony also included the hanging of a fallen first responders flag, also called an angel flag. It was first given to the Theofilis family at a celebration of Nick's life at Carnivores in Oakmont in late January.
The flag was strung up, just under an American flag, on a pole along the pool fence.
Lifeguards remember
Several former lifeguards who worked with Theofilis attended the ceremony. They shared memories of him prior to and after the ceremony.
Becca Malek graduated from Penn Hills in 2018 and moved to New York City. She said her first job was being a lifeguard with Theofilis.
"He got me this job here and he's just the best," Malek said. "Working out in the hot sun all the time can be so tiring. When Nick was on duty with me, I knew we were going to have the best time. He's the smartest guy. He's really passionate about not only the job he was doing currently but the job he wanted to have. He loved his community.
"Every summer I'd come down here and knew I would see Nick. I knew he was going to run up to me and give me a hug. It's just great to be down here and remember him and the legacy he left in Penn Hills. ... This night is just so special and he would have loved this. He would have loved seeing all his friends down here and family and pool members."
Julia Maisto and Alice Bowser live in Rosedale. They went to high school with Theofilis and were on duty at the pool during a couple of his seasons.
"He had the most comforting energy, the most comforting sense to him," Maisto said. "I was never not laughing with him. When I think of here, I think of Nick. He was part of our family here. It's great to be here celebrating him, but it's hard to be here without him."
(c)2023 The Tribune-Review (Greensburg, Pa.)
Visit The Tribune-Review (Greensburg, Pa.) at www.triblive.com
Distributed by Tribune Content Agency, LLC.
McClatchy-Tribune News Service