Pinnacle: 6 critical EMS future improvements
From measuring industry progress, to community paramedicine and the decline of ALS, EMS leaders highlight how the industry must adapt
---
The 10th anniversary of the Pinnacle EMS Leadership Forum will be held Aug. 3-7, 2015, Omni Plantation, Amelia Island, Fla.
EMS must adapt.
That much was clear after the Pinnacle EMS Leadership Forum held in Scottsdale in July. The annual meeting of senior chiefs and executives from every service model is designed to stir things up.
This year was no exception, with many presenting conflicting views on the future that came down to an overarching concept.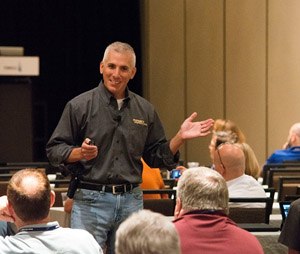 "If you always do what you've always done, you'll always be what you've always been," said Jay Fitch, president of Fitch & Associates and the organizer of the conference.
EMS leaders agreed that there are significant challenges facing out-of-hospital providers, not the least of which is the inherent tension caused by such a diverse industry trying to find a unified voice.
At a time when the U.S. health care system is undergoing rapid changes, the need for the nation's EMS services to find some common ground while still being flexible is more critical than ever. And as both public and private payers emphasize value, EMS needs to demonstrate to the rest of the health care community the critical role it can play in achieving the triple aim: a better patient experience, improved population health, and decreased costs.
Why EMS must start measuring industry progress
Evidence-based medicine, health care reform and coming changes to reimbursement models dominated the agenda, as conference-goers heard from agency leaders, insurance executives, medical directors and data experts.
In his closing keynote, Dr. Brent Myers, the director of Wake County (N.C.) EMS, challenged leaders to look critically at the evidence but to avoid paralysis.
"We've got to do the best we can with what we have today," Myers said of the current state of EMS research and practices. "I can't just wait on the perfect study, nor can I assume that what we did five years ago is right."
Myers was one of many speakers to emphasize the need for EMS to adapt and be flexible, but change in EMS hasn't always come easy; just ask Pinnacle Lifetime Achievement Award-winner Jack Stout.
Fitch presented the award to Stout, who received a rousing applause and standing ovation from the crowd. Stout, an economist, is considered a pioneer in EMS system-design and the father of high-performance EMS systems. (In a surprise, his son, Todd, president of the data-tracking company FirstWatch, received the annual Pinnacle Leadership Award at the same time.)
If EMS leaders refuse to adapt, many Pinnacle presenters warned, someone else will make changes for them.
In a talk on the importance of the patient experience, Allina Health EMS President Brian LaCroix told the audience that the patient's opinion of how he was treated by EMS will soon impact EMS reimbursement. He advised EMS leaders and providers to measure and try to improve the patient experience, and for the industry as a whole to start defining the best way to measure it.
"We as a profession should start thinking about doing this ourselves, before [the Centers for Medicare and Medicaid Services]," LaCroix said.
It's only a matter of time before the agency starts using patient experience as a factor in determining reimbursement, as it does now with hospitals, he said. But, it's not only about the money; it's also about the patient and the EMS provider.
"When there's a positive patient experience, there's a positive caregiver experience," he said.
Similarly, in a meeting for users of FirstWatch, the company's medical director spoke about efforts to define quality measures and benchmarks for EMS.
Dr. Alex Garza, who previously served in Washington as assistant secretary for health affairs at the U.S. Department of Homeland Security, suggested that CMS and other payers would eventually use clinical quality measures to determine reimbursement, and agencies should begin defining and measuring before someone else makes them.
"If we don't do it then the government is going to do it for us," Garza warned.
Of course, defining those benchmarks won't exactly be easy. Many agencies and jurisdictions still use response times or the number of ALS providers on-duty as measures of performance.
In a talk addressing some of the more controversial issues in EMS, Alan Craig proposed significant changes to how EMS leaders and providers think about the industry, especially ALS.
Is ALS a fading concept?
Craig, who retired as deputy chief of EMS in Toronto, currently serves as vice president for clinical strategies at American Medical Response. He brought four decades of EMS experience to his talk, entitled "Is the ALS paramedic a fading concept?"
"It's time for a major overhaul and to rethink what we're doing," Craig said, recounting his role as one of the promoters of expanding ALS services.
"By extension, if ALS was good for certain things, it's good for everything," said Craig, describing how he once felt about paramedics. "I'm here to recant. We were wrong. But I was in good company."
Craig used data from an unnamed metropolitan ALS service to show that many skills are rarely used. For example, a paramedic performed a surgical airway only once in more than 70,000 patients.
Craig argued that providers could not be proficient in skills that were so rare, and that performing them without proficiency could put patients at risk.
"We should not do things that we're not good at," he said.
EMS also needs to take a critical look at whether the skills that paramedics pride themselves on doing — such as intubation — are actually good for patients. He pointed out some of the other procedures, like MAST trousers, which were once thought to be lifesavers but eventually determined to be ineffectual at best, and possibly detrimental.
"I did a lot of those," he said. "I wonder if I caused great harm in my enthusiasm to do good?"
The "new medic"
Craig proposed creating a new medic, who would be trained in skills that are known to be beneficial and that are required frequently enough for providers to develop proficiency. He also recommended that new paramedics spend a much longer time — perhaps several years — practicing with a more senior provider after receiving their credentials.
Another new medic was also discussed extensively at the conference: the community paramedic. Mobile integrated healthcare (MIH) was on everyone's mind and several of Pinnacle's sessions addressed issues related to the concept.
Several conference attendees spent an entire day at pre-conference MIH sessions, where they learned about innovative programs across the country. They also heard warnings from industry leaders that they should not jump into these programs without slowing down, doing some serious planning, and ensuring proper medical oversight.
How fire departments are rethinking medical response methods
EMS agencies face a crossroads. On the one hand they are being told to slow down and not rush into new programs, while at the same time they are being told they must evolve.
At a session on how the fire service needs to change, retired fire chief and current Pinellas County (Fla.) Director of Safety and Emergency Services Bruce Moeller suggested that fire departments that weren't considering new ways of providing EMS care were committing suicide.
Scott Somers, a paramedic and firefighter in Phoenix and city council member in Mesa, Ariz., spoke about Mesa's efforts to adapt to changes in community expectations and the health care environment.
Mesa, whose fire department recently changed its name to the Mesa Fire and Medical Department, just received a $12.5 million grant from the federal Center for Medicare and Medicaid Innovation for its Community Care Response (CCR) units.
Somers described the program, which places three different types of the CCR units in the field: one with an experienced paramedic and an EMT, one with a paramedic and a nurse practitioner, and one with a paramedic and a behavioral health specialist.
The goal is to provide the most appropriate service to the patient as quickly as possible and avoid unnecessary transports to the hospital.
"This is a potentially sustainable service," Somers said. "It decreases fire apparatus response and is a potential revenue source."
In the same session, Fitch and Associates Partner Guillermo Fuentes showed how some departments are struggling with shrinking budgets and limited resources, and how the fire service can adapt.
Some of those changes might be sending only first responders, and not transport units, to the lowest acuity calls and only calling in the transport unit when necessary. At the same time, he suggested that sending first responders to every call was also a waste of resources, and that priority dispatching could limit the need for first responders.
"Sending fire [department first responders] to 7 percent of the calls would lead to the same [patient] outcomes," Fuentes said.
He also said that with the way the industry and health care financing was moving, EMS agencies and fire departments needed to rethink their business models.
"Transport companies are not making much money," he said, arguing that revenue is decreasing as expenditures are rising for agencies that do emergency 911 transports. "Fire departments and EMS are fighting for the wrong prize. There's just no money being made in transports."
The future of EMS funding
The future of EMS funding was the topic of a panel discussion featuring two insurance executives and hosted by Sharon Henry, president of Evolution Health.
Edward Kim, who heads Cigna's Arizona health plans, spoke about the "potential of [the EMS] industry in playing a key role in reducing costs either before the hospital admission or after discharge."
"That is something I would definitely like to partner with you on," he said.
At a panel of representatives of federal agencies, the audience wanted to know when CMS — the largest health insurer in the country — would change its reimbursement model to pay for services provided by EMS other than strictly ambulance transport to a hospital. While CMS was not represented on the panel, Gregg Margolis, representing a different U.S. Health and Human Services agency, addressed the issue.
"I will say that I have some concerns that EMS [is] trying to solve a problem with an old model … [by] doubling down on a fee-for-service model," said Margolis, a paramedic who serves as director of the Division of Health Systems and Health Care Policy for HHS's Assistant Secretary for Preparedness and Response.
Instead of thinking about a short-term fee-for-service approach to reimbursement for non-transport and MIH programs, Margolis suggested EMS agencies start preparing for a world that isn't based on fee-for-service, and think about "aligning incentives and value-based purchasing."
Improving cardiac arrest survival rates
Although the evolving healthcare system, finances, and other big-picture issues dominated the conference, one speaker addressed a clinical topic that has remained a priority of EMS care for decades: cardiac arrest.
Dr. Bentley Bobrow, M.D., the medical director for the Arizona Bureau of EMS and Trauma Systems, discussed Arizona's statewide efforts to improve survival from cardiac arrest. The presentation touched on all aspects of the chain of survival, from public and dispatch-assisted CPR and AED use to high-performance CPR and post-resuscitation care.
"If someone's in ... a shockable rhythm when EMS arrives, we should save them," Bobrow said.
Bobrow's talk was a good reminder to everyone at Pinnacle that with all the changes coming to health care and all the uncertainties ahead, agencies that focus on evidence-based medicine, training, and quality improvement can make a difference in people's lives right now and into the future.