Improve EMS performance like a champion
Learn how one EMS agency improved EMS provider performance with an Olympic-themed competition
---
By Mike Taigman and Tony Sorensen
My most vivid Olympic memory is the 1996 women's gymnastics all-around competition. The Russians had dominated the sport and going into the final rotation it looked like it would be possible for the U.S. to win for the first time in Olympic history. The last U.S. event was the vault. U.S. team member Dominique Moceanu had fallen twice when Kerri Strug, the last U.S. competitor, lined up to vault. Strug under-rotated the landing of her first attempt and injured her ankle.
With the point difference smaller than a blood cell, she asked the coach, "Do we need this?"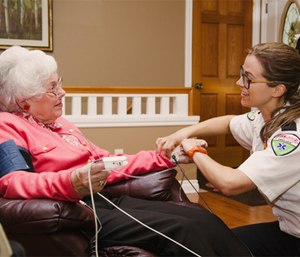 He said, "Kerri, we need you to go one more time. We need you one more time for the Gold. You can do it; you better do it." 
She limped to the end of the runway and then landed the vault on both feet long enough to register a 9.712 before collapsing in pain, cementing the Olympic gold medal for the U.S.
Olympic inspiration for EMS improvement
Inspired by champions like Strug, the team from Life EMS Ambulance, established in Grand Rapids, Mich. in 1980 and proudly serving over 3,700 square miles of west Michigan with paramedic response, decided to have some fun and see if they could make some meaningful improvements at the same time. Their theory was that if they focused on a handful of measurable opportunities for improvement, added in a dose of friendly competition, and offered prizes for the winners, that they would make meaningful improvements.
Their quality improvement-focused version of the Olympics was held last summer in the months before, during and after the Rio Olympics. The Life EMS Ambulance organization is naturally segmented into three teams — central, north/east, and south — for friendly competition. They created four events:
1. Vital Sign Sprint: Did we obtain two sets of vital signs on each patient?
2. Breath Stroke: Did we use capnography on patients receiving ventilatory assistance?
3. Last Normal Backstroke: Did we record the last seen normal time for patients with CVA?
4. Data Sync Dive: Was the data from the monitor uploaded into the ePCR?
Their aim was to make tangible improvements in these four areas. Baseline data provided a starting point. The company provided feedback on team performance every two weeks in company newsletters. Individual employees got regular feedback on their performance through FirstPass, a clinical quality measurement and protocol monitoring tool. Gold medal winners got $25 gift cards, silver got a pizza party and bronze got an ice cream social.
A spirit of camaraderie, competition and fun spread throughout the organization. Crew members started coaching each other on ways to improve.
Significant and sustained performance improvement
Life EMS Ambulance saw significant and sustained improvement in two of the target areas. These two charts are Shewhart charts, which are a type of statistical process control charts to display data for performance improvement.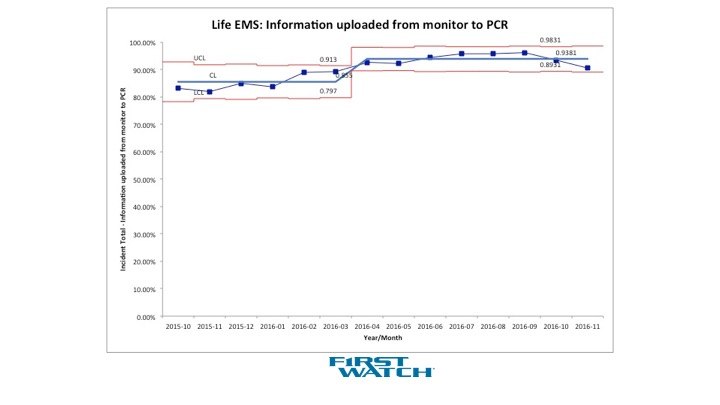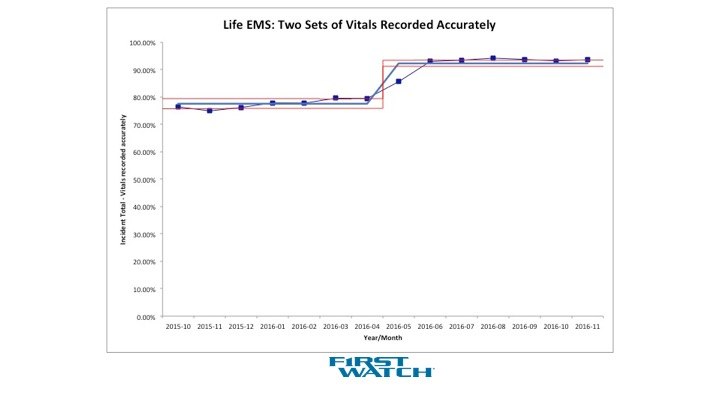 The other two target areas saw no change. They had no decrease in performance anywhere in their system. And probably the most surprising thing is that they saw widespread sustained improvement in several areas that were not on the target list. These included improvements to:
Time to 12-lead ECG acquisition.
Time to nitroglycerin administration and time to aspirin administration for patients with acute coronary syndrome.
Recording of two pain scores.
ROSC for people with cardiac arrest.
Temperature and ETCO2 assessed for possible sepsis patients.
7 performance improvement lessons
The team at Life EMS ambulance learned valuable lessons about quality improvement that are applicable to any EMS agency. Here is what they learned:
1. A friendly competition focused on quality improvement can result in improvements.
2. These improvements appear to be sustainable, at least in the few months after the competition ended.
3. Not everything that is focused on for measurement will improve with the first effort.
4. Providing regular feedback, close in time to the actual patient care, to the team and individuals on performance helps people keep on track.
5. Focused improvement in a few areas has the potential to overflow and cause improvement in other areas.
6. It's possible to have a lot of fun while engaged in serious improvement work.
7. A dedicated and talented team of front line medics are able to implement widespread improvements in a short period of time. 
There are some performance improvement theorists that suggest competition might not be a good idea — that competition has the potential to erode self-esteem, especially in young people. The leadership team addressed this concern by ensuring that 80-90 percent of the focus was on improving care for their patients with a lighthearted playful sense of competition.
Other experts will tell you the use of rewards like prizes undermines the joy in work. Their theory is that when people are too focused on the prize they might actually care less about the work they are doing and any improvements will be short lived. For this competition, the prizes were not luxury Caribbean cruises or fancy sports cars. Prizes were modest, but real. And we know that the prizes were not the primary focus, because the improvements have sustained well past the awarding of gift cards, pizza and ice cream.
Who could possibly top the Olympics? Bond. James Bond. Yes, their next quality improvement competition will have a 007 theme. The target areas will be:
Serial 12 lead EKG's … One is not enough.
Pain scores are forever.
Doctor Know … for base physician contact.
Morphine and fentanyl weight-based dosing … for your weight only.
Trauma scene time … license to live.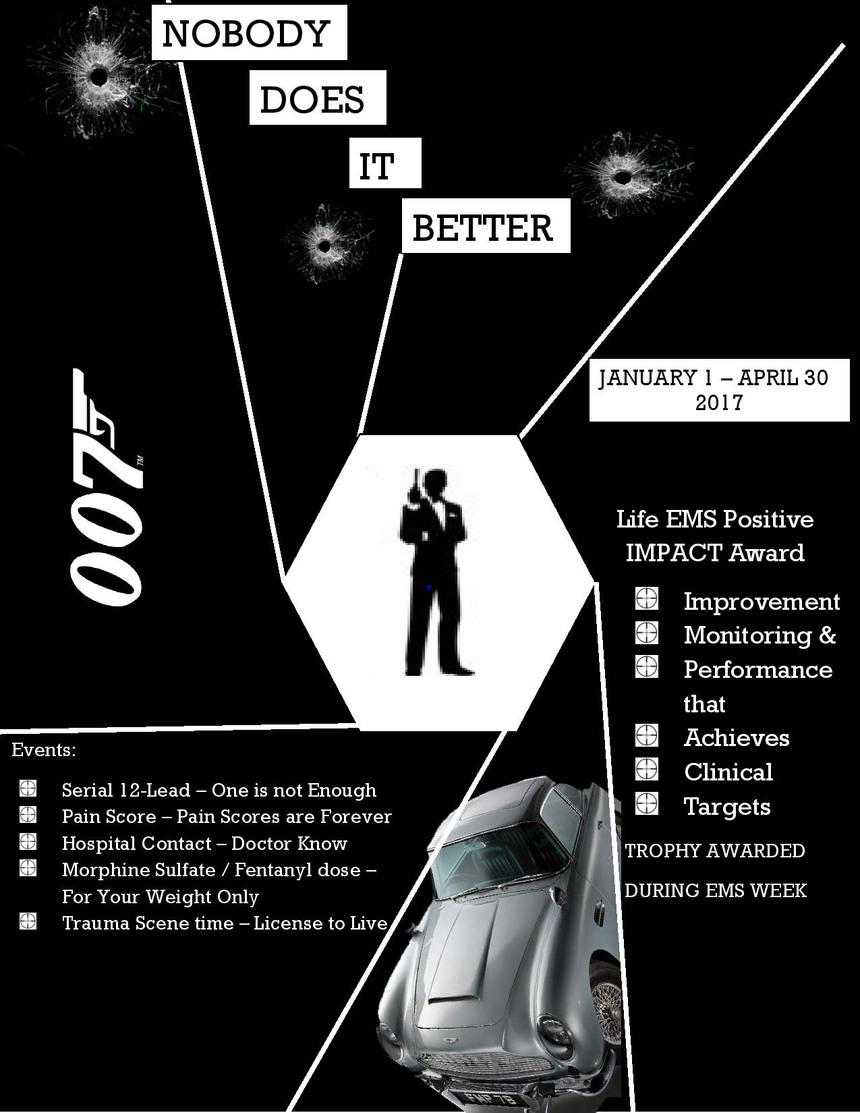 About the co-author
Tony Sorensen is the vice president of resource performance for Life EMS Ambulance and a paramedic I/C with 31 years of EMS experience in both rural and urban systems. In addition to his EMS clinical experience he has taught MFR, EMT, EMT-S and paramedic programs through Montcalm County EMS, Montcalm Community College and Life EMS Ambulance. Tony is active in many local, regional and state level EMS activities. He is the past president of the Society of Michigan EMS Instructor Coordinators and the current president of the Michigan EMS Practitioners Association. Tony also represents MiEMSPA as a member of the State of Michigan EMS Coordination Committee. He has held leadership positions with Montcalm County, State of Michigan EMS Section as the EMS Education Coordinator.