FirstNet's Nationwide Network: A promising opportunity for community paramedicine programs
Awareness of FirstNet's interconnected broadband network for securing and improving public safety communication is increasing among EMS leaders
---
By Brent Williams
After the city of Taos, New Mexico's effort to recruit physicians to its town failed nearly 20 years ago, the town adopted a program that expanded the role of EMS personnel and extended health care services to meet the needs of its most disadvantaged citizens. The success of the Taos Red River Project, caught the attention of other towns in both rural and urban areas.
In 2015, the National Association of Emergency Medical Technicians conducted a survey and found that more 100 EMS agencies have launched community paramedicine or mobile integrated health care programs in over 33 states and the District of Columbia. In addition to filling the gap in health care services in these communities, these programs have reduced out-of-pocket health care costs and expanded access of patient care services.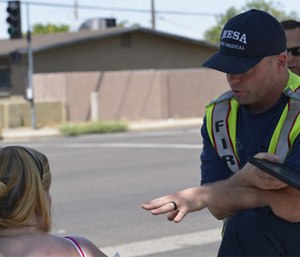 Community paramedicine is an evolving model of community-based health care using and expanding upon EMS resources to address a community's primary care needs for medically underserved populations. These programs often involve sending paramedics into the home to extend primary care, extending nurse triage services to non-urgent 911 callers, sending EMT's to homes for post-hospital discharge follow-ups and making alternative transport arrangements for patients to primary or urgent care facilities instead of the emergency room.
When Kevin McGinnis, Paramedic Chief (Ret.), first coined the term community paramedicine in 2001, technology was a small and growing part of the original vision. Since that time, paramedics routinely leverage technology tools such as connected devices and smart sensors to access emergency care resources and increase access to primary care for patients.
Improve real-time public safety communications
McGinnis now has an important role representing EMS interests as a member of the FirstNet Board of Directors. FirstNet is an independent authority tasked by Congress to deploy the first high-speed, nationwide wireless broadband network dedicated to public safety. As a board member, McGinnis is currently working to make the vision for a fully interconnected broadband communications network a reality for EMS and other public safety first responders.
Advanced technologies and next-generation tools increasingly play a greater role in the EMS field. Yet, too often EMS personnel experience interoperable communication gaps that include using different radio channels making it difficult to transmit data, voice or images. FirstNet will provide emergency medical professionals access to more data in real-time over a network dedicated to public safety.
"Whether going to the scene and using cardiac monitoring or blood tests, that information and monitoring could be done on the FirstNet platform and have someone at the scene confer with an offsite provider," McGinnis said.
FirstNet will increase situational awareness for EMTs, and their ability to transfer and receive medical information over a secure, prioritized network could enhance tele-medical care in general — especially in rural areas or in urban areas hosting large events and crowds of people. Ambulance teams will also be able to able to access more paramedicine and telemedicine capabilities through the dedicated public safety broadband network.
FirstNet will improve telemedicine capabilities
"The ability to link community paramedicine to a provider who does primary care all the time, to have immediate conversations with video and various monitoring devices and images to share without delay will make community paramedicine much more potent," McGinnis said.
The FirstNet network will provide significant ways to improve out-of-hospital emergency care for physicians, paramedics and EMTs alike. FirstNet understands that emergency medicine, especially in the field, is one of the most challenging areas of medical care. FirstNet could support efforts to build community paramedicine programs by providing the mobile access to health care records and voice or video communications between emergency technicians in the field and hospitals.
Today, many mobile applications designed for first responders are slowed or restricted while using the commercial networks for transmission. The FirstNet network's high-speed, broadband capabilities will ensure faster, reliable and uninterrupted service for EMS technicians responding to an emergency. To further meet the needs of EMS and public safety personnel, FirstNet is also building an applications ecosystem where innovative applications are available to first responders.
FirstNet's newly opened, state-of-the-art laboratory in Boulder, Colo. provides a facility to test, review and distribute innovative public safety applications. This testing will help reduce the time to initially field test and deploy EMS and public safety applications on the FirstNet network. The quicker FirstNet can deliver mobile applications to EMS providers, the easier it will be to share advanced diagnostics and patient records with treating physicians or hospitals.
Increasing FirstNet awareness
During the 2017 EMS Today Conference, McGinnis presented an update on FirstNet to a pre-conference hosted by the National Association of State EMS Officials. He educated participants about FirstNet's role building a nationwide network to enable community paramedicine programs to provide more advanced care and quicker delivery of services at during an emergency.
"Our Association has stayed on top of FirstNet because it will change how EMS is practiced in the near future," Dia Gainor, Executive Director of the National Association of State EMS Officials, said. "At conferences, it amazes me how few EMS people have known about it. In the panel, we hosted at EMS Today, however, I was equally amazed that every hand went up in a large audience indicating a knowledge of FirstNet."
If you would like to show your support for FirstNet or get more engaged find information at http://www.firstnet.gov/. Take any of these actions to advocate on behalf of FirstNet being built in your state or territory:
Contact your state Single Point of Contact (SPOC) today.
Spread the word about FirstNet in the public safety community, either by word-of-mouth or social media. Connect with FirstNet on Facebook and Twitter.
Reach out to state associations to pass a resolution in support of FirstNet.
With your help, FirstNet will be able to meet public safety's critical communication needs. When seconds count, the FirstNet network can mean all the difference for first responders and the public they serve.
About the author
Brent Williams, Senior EMS Advisor joined FirstNet in 2015 from the Michigan Department of Health and Human Services where he was as an EMS Radio Communications Consultant to the EMS and Trauma Systems Section since 2002. In that role, Brent was the subject matter expert on EMS radio communication systems and requirements. He has also worked as an independent consultant for local government, served for 11 years as a police patrol officer and over 20 years as a paramedic. Brent is based in Michigan and can be reached at brent.williams@firstnet.gov.