Scientists: Anti-heroin vaccine could help fight opioid addiction
Researchers said they developed a vaccine that blocks the feeling of euphoria caused by opioids without interfering with other addiction treatments
---
By EMS1 Staff
SILVER SPRING, Md. — A newly-developed vaccine could potentially help fight the opioid epidemic by blocking the euphoric effects of heroin in the brain.
Eureka Alert reported that the experimental vaccine works by blocking the euphoric effects of heroin with antibodies that protect the blood-brain barrier. Scientists found that the vaccine also works with other opioids, such as oxycodone and codeine.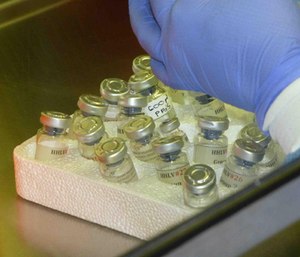 "By eliciting antibodies that bind with heroin in the blood, the vaccine aims to block the euphoria and addictive effects," U.S. Military Research Program Adjuvants and Formulations Chief Dr. Gary Matyas, said. "We hope to give people a window so they can overcome their addiction."
The study also found that the vaccine did not interfere with other treatments for addiction, such as methadone.
Researchers added that patients who have the vaccine could still be given small doses of opioids for pain management if acute treatment is required.
"Although we are still in the early phase, this study suggests that vaccination can be used together with standard therapies to prevent the withdrawal and craving symptoms associated with opioid withdrawal," Dr. Matyas said.