Opioid deaths are up, but study shows ER doctors rarely prescribe medication-assisted treatment
In prehospital settings, naloxone is widely available, and buprenorphine has been approved for few EMS providers
---
By Leila Merrill
WASHINGTON — Medication-assisted treatment such as naloxone or buprenorphine can save patients' lives, but a new study suggests that emergency physicians could prescribe these drugs more often.
The authors of a new Annals of Emergency Medicine study analyzed almost 149,000 emergency department visits for opioid overdose between August 2019 and April 2021 to determine that naloxone was only prescribed within 30 days after one in 13 visits (7.4 %), and buprenorphine was only prescribed after one in 12 visits (8.5%). The team used Symphony Health's Integrated Dataverse, which includes data from 5,800 hospitals and 70,000 pharmacies.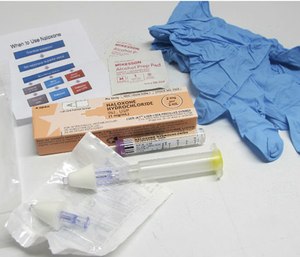 "Emergency department visits for an opioid overdose are a critical opportunity to prescribe life-saving medications such as naloxone and buprenorphine," said Kao-Ping Chua, MD, PhD, an assistant professor of pediatrics and health services researcher with the Susan B. Meister Child Health Evaluation and Research Center at the University of Michigan Medical School and lead study author. "Our findings indicate that clinicians are missing these opportunities at a time when U.S. opioid overdose deaths have reached record highs." 
The study's findings follow provisional data from the CDC's National Center for Health Statistics released in November stating that estimated overdose deaths from opioids rose to 75,673 in the 12-month period ending in April 2021, up from 56,064 in the prior year. Those deaths make up a significant portion of the 28.5% increase in drug overdose deaths in the U.S.
In 2019, New Jersey paramedics were the first in the nation to receive authorization to administer buprenorphine. In November of this year, a pilot group of Pittsburgh EMS paramedics began the practice, according to the city of Pittsburgh.
Naloxone has been in use for years. It can be administered by EMS providers, firefighters and some police officers and lay people at restaurants and schools.