Naloxone: Public access or excess?
There is ongoing concern about someone with little or no medical training administering naloxone to treat overdoses; is the risk worth the reward?
---
Naloxone, the emergent opioid antagonist of choice in most of the U.S. since the 1970s, is at the center of a risk/reward controversy about whether a potent medication with significant side effects should be administered by non-medical personnel.
Once carried almost exclusively by paramedics, naloxone – more commonly known by its brand name, Narcan – has been widely distributed in intranasal (IN) form to firefighters, police officers, and even the general public, since 2012. Despite cumulative claims of hundreds of lives saved by lay rescuers who have administered the drug, there is ongoing concern that patients on opiates are too often treated with "overdoses" of naloxone by well-meaning responders with little or no pharmaceutical training.
Naloxone is a receptor interceptor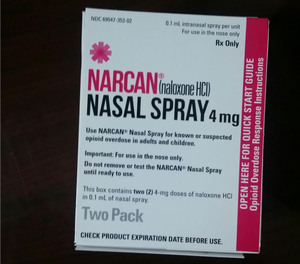 Naloxone competes with narcotics for opiate receptors in the brain, but more importantly, displaces narcotics already occupying those receptors and reverses overdoses. Since naloxone usually has no effect on patients not on narcotics, it is considered by many to be a low-risk way to treat and even diagnose opiate/opioid abuse.
Naloxone low risk? Not according to Paul Werfel, director of Stony Brook University's paramedic program and a medic since 1983.
"I've seen a bunch of reactions to naloxone, ranging from assaults to withdrawal and vomiting," Werfel said. "The chances of that happening are greater when you give a full dose."
Werfel is referring to the practice of administering 2 milligrams of naloxone intravenously to presumed opiate abusers, instead of titrating naloxone to a more gradual effect – one that would accelerate spontaneous respirations without sending victims into full-blown withdrawal. Absorption of IN naloxone is thought to be more gradual, but the literature is unclear about the relative risks of dosing via IV and IN routes.
Even if IN naloxone were safer, Werfel argues, responders without EMT certification often lack a basic and critically important resuscitation skill that is a key component of respiratory care.
"In many of these cases, patients and caregivers would be better served by BVM (bag valve mask) ventilation and transport to the nearest hospital. Generally speaking, opiate OD [patients] that are well-ventilated don't die and don't have to go through withdrawal."
Risk takers or life savers?
James Garside, a police officer and AEMT in Suffolk County, New York – an early proponent of wider naloxone distribution – has handled dozens of opiate-abuse cases in both medical and law enforcement roles and sees parallels between the proliferation of IN naloxone and automated defibrillators.
"I think naloxone is the next big public-access project," Garside said.
The 22-year Suffolk County Police Department (SCPD) veteran, who recalls resuscitating two unresponsive heroin addicts with IV naloxone during the past three years, has helped introduce zippered IN naloxone kits to his community during public demonstrations.
"The little plastic atomizer that fits on the end of the syringe lets us take a life-saving medication that's been around for a long time and make it user friendly," he said.
The users, in some cases, are family members of drug abusers who might not survive overdoses without immediate intervention.
"Once they stop breathing, you only have a few minutes before their heart stops, too," Garside said. "By then it's too late to bring them back with Narcan alone."
Naloxone supply and demand
Naloxone isn't cheap; boxed, 2-milligram prefilled syringes cost $40-70 each and single-dose IN kits run $16-45. Intramuscular naloxone auto-injectors, with performance similar to an EpiPen, retail for $825!
Those prices, stimulated by increased demand for naloxone and a nationwide shortage that has since been resolved, have strained budgets at EMS agencies like Wisconsin's Gundersen Tri-State Ambulance, where naloxone costs have risen by 1,300 percent in just one year. Yes, that's two zeroes.
"There are always times when we need to look at where some things can be cut," Tri-State's Darin Wendel said, who nevertheless reassures customers, "We'll never stop carrying Narcan."
As the debate about naloxone's benefits and costs continues, the issue for most non-medical responders across the U.S. isn't whether to stop carrying naloxone, but whether to start carrying naloxone.