Ala. county police now equipped with naloxone to help fight opioid crisis
As part of the ongoing effort to battle the opioid epidemic, Jefferson County Sheriff Mike Hale late last month armed his deputies with naloxone
---
By Carol Robinson
Alabama Media Group
JEFFERSON COUNTY, Ala. — Two women are a recovering after they simultaneously overdosed over the weekend in northeast Jefferson County.
While Jefferson County sheriff's deputies were en route, the caller reported that CPR had been started on one of the women. When deputies arrived on the scene, they found both women unresponsive.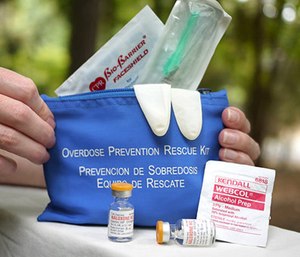 The deputy administered Naloxone, more commonly known by the trade name Narcan, which is an intranasal medication used to counteract the effects of an opioid overdose. Both women were taken to an area hospital for additional treatment.
In 2017, Jefferson County saw 202 deaths due to overdoses of heroin and fentanyl. As part of the ongoing effort to battle the epidemic, Sheriff Mike Hale late last month armed his deputies with the naloxone.
Since 2014, Staten Island has received more than 17,000 naloxone kits from the Department of Health.  Kyle Lawson Klawson@siadvance.
They began training in late September and began carrying the naloxone with them as soon as they were trained, Hale said.
In just one month, deputies already have saved three lives, the sheriff says.
One deputy used it to save the life of a man on his first day carrying the naloxone. The deputy was dispatched to investigate a report of an unresponsive male in a pickup truck in western Jefferson County. Once the deputy and Bagley Fire Department were on the scene, they found a man who had overdosed on heroin.
Though paramedics were on scene, they had no naloxone. The deputy gave his issued naloxone to the paramedics who were able to administer it and revive the victim.
Hale said of additional concern to law enforcement is accidental exposure to fentanyl while conducting searches of suspects and vehicles.
Fentanyl is a potent opioid produced both pharmaceutically as well as in illegal clandestine laboratories. It is one hundred times more potent than morphine. It can be introduced into the body through inhalation or direct skin contact unknown to the person exposed. Deputies conducting a search may be unknowingly exposed to the drug. Carrying naloxone is a safeguard against these types of exposures.
"We are doing everything we can to battle these type deaths,'' Hale said. "The numbers are trending down, but this drug is still breaking the hearts of families across the country."
Hale said sheriff's jail officials have also partnered with UAB to help inmates break the cycle of addiction. "Inmates willing to be part of the program are given a new promising treatment to combat their addiction to opioids as well as counseling and support that continues after their release,'' he said. "We have stepped up enforcement efforts, sued the drug companies, conducted a robust media campaign to educate people of the dangers and armed our deputies with this medical remedy. More lives will be saved because of this comprehensive effort. I'm certain of that."
Copyright 2018 Alabama Media Group
McClatchy-Tribune News Service