N.C. EMS crew moves out of FD after reports of misconduct
The Advance Fire Department is investigating the alleged inappropriate actions, which include unwanted touching, wine-making and loud behavior
---
By Leila Merrill
ADVANCE, N.C. — Davie County moved an EMS crew out of the Advance Fire Department because of multiple reports of misconduct by fire department employees, the Associated Press reported.
Davie County Manager David Bone notified Chief Rodney Miller on Jan. 21 that the county was immediately ending the agreement to house staffers, an EMS transport unit, equipment and supplies at the department.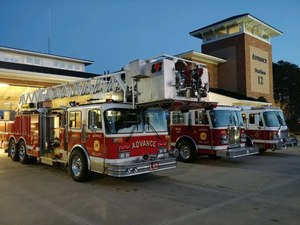 The "inappropriate actions" by fire department personnel or their guests, according to Bone, included unwanted touching, wine-making, visitors being allowed in staff bedrooms, loud behavior and late-night noises.
Daniel Burke, chairman of the fire department board, said in a statement to news outlets on Jan. 26 that the agency "will not condone, permit or tolerate any form of unlawful discrimination or harassment by or against our employees or volunteers."
Burke said that the department is investigating the accusations.
Bone told WXII 12 News that he and the fire department, "are working through our concerns."
DCEMS crewmembers will stay at the old Advance Fire Station Number Two, which is near the current Advance Fire Station.