NYC mayor announces FDNY-social worker mental health teams will be rolled out citywide
FDNY EMS union officials said the city is moving too fast on the program, which hasn't been tested yet
---
By Laura French
NEW YORK — New York City Mayor Bill de Blasio has announced plans to roll out a new mental health response program that pairs FDNY EMS providers with social workers across all city precincts in the upcoming fiscal year. 
The pilot program, which was first announced in November and originally scheduled to launch this spring in just three precincts, aims to provide an alternative to police response for those experiencing a mental health crisis. De Blasio announced the plans to implement the program citywide while presenting his executive budget for fiscal year 2022 at a news conference on Monday. About $112 million has been allocated for the project.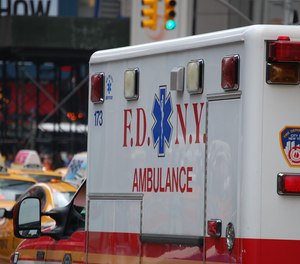 "We've talked before about starting a civilian response to the mental health crisis and piloting that in three police precincts in the city. We're not convinced that this approach is going to work citywide," De Blasio said during the news conference. "So, for mental health crisis calls, we're going to take that civilian approach and use it in all precincts in the city in the course of the upcoming fiscal year." 
Under the program, teams of two FDNY EMTs and one social worker each will be available 16 hours a day to respond to non-violent mental health calls, the Associated Press previously reported. In February, Susan Herman, head of the city mental health initiative ThriveNYC, told the AP that hiring and training were underway for the prospective spring launch. 
FDNY Uniformed EMS Officers Local 3621 Vice President Anthony Almojera told the New York Post Monday that he believes the city is moving too fast on the program by announcing a citywide launch before it has been tested. Almojera said training for EMS members on the teams hasn't started yet and members were still being recruited as recently as a week and a half ago. 
Almojera stated that he isn't fully against the idea of the program, but told the Post, "like everything else in this department, when it comes to EMS, it's rushed and has the potential of being thrown together too quickly." 
FDNY EMS Local 2507 President Oren Barzilay previously released a statement saying the safety of EMS providers needed to be discussed and prioritized before moving forward with the program, stating, "the de Blasio Administration is now asking our members, some barely paid above the minimum wage, to step into this even higher risk role, without physical protection."