Fla. fire officials, EMS captain's widow push for more mental health screenings
The widow of Winter Park Fire-Rescue Department Capt. A.J. Isaacs, who died from an overdose last year, says she believes PTSD from his work contributed to his drug use
---
By Laura French
ORANGE COUNTY, Fla. — The widow and colleagues of a Florida EMS captain who died from an overdose last year are pushing for more mental health screenings to aid struggling first responders. 
Winter Park Fire-Rescue Department EMS Capt. A.J. Isaacs, 47, died on Jan. 30, 2019 after overdosing on sedatives he had taken from the department. His widow, Heather Isaacs, told WFTV she believes he began using drugs to cope with work-related PTSD.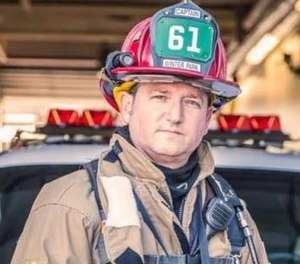 In the year-and-a-half after his death, Heather Isaacs and fire officials in Orange County have been pushing for thorough mental health screenings to be performed annually to better assist firefighters and EMS providers struggling with PTSD and other behavioral health issues. 
WFTV reported that a survey of several fire departments in Central Florida found that none of the departments surveyed performed in-depth screenings for PTSD and mental illness on a yearly basis. 
Volusia Fire Rescue Deputy Chief of Operations Jeff Hussey said that the biggest barrier to improving these services is the cost, adding that the COVID-19 pandemic has made it even more difficult to find the funds to provide screenings and resources. 
"We're really trying, holistically, to let people know it's OK to not be OK," Hussey told WFTV. "This is such an important topic for all of our responders, all over the country, we're really going to be having to look at it in the future."