National EMS Memorial Service moves Weekend of Honor to July
The organizers said they are responding to lower costs and better timing for families and partner organizations
---
By Leila Merrill
WASHINGTON — The National EMS Memorial Service announced Wednesday the dates for the National EMS Memorial Service and Weekend of Honor for 2022 and 2023.
The dates are July 22-24, 2022, and July 21-23, 2023, and the location is the Hyatt Regency Crystal City at Reagan National Airport in Arlington, Va.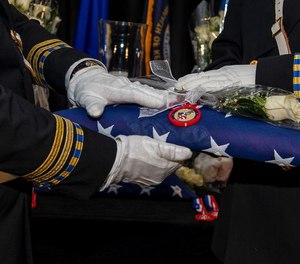 Following the 2021 National EMS Memorial Service and Weekend of Honor, which were held in July, the NEMSMS board met with stakeholders to consider feedback. Last year's events were moved from their traditional May dates to July primarily due to COVID-19 impacts, but the change came with benefits. Those included lower costs, more family-friendly travel in summer months and the ability for partner organizations to schedule planned midyear meetings around the same time.
The weekend event includes experiences to recognize the ground and air EMS providers who serve in the U.S. and focuses on those who become sick or injured in the line of duty. The weekend culminates with a formal service to honor those who have died.
An event called Moving Honors – a procession of a temporary memorial for that year that originated last year and proved powerful – will be back this year. It precedes the Weekend of Honor.
The National EMS Memorial Bike Ride will also be part of the weekend.
The Weekend of Honor is organized and hosted by the following volunteer-staffed organizations: National EMS Memorial Bike Ride, National EMS Memorial Foundation and National EMS Memorial Service.  Visit the National EMS Memorial website to learn more.