Preventable death during civilian public mass shootings
Introducing paradigm-shifting research in an effort to influence policy changes needed to save more lives in mass shooting responses
---
NASHVILLE — In recent years, the FBI has recorded a rise in civilian public mass shootings, which has sparked new research to understand the causes of death during these events and changes needed to current response processes to mitigate risks and prevent deaths.
Babak Sarani, MD, FACS, FCCM, director of the Center for Trauma and Critical Care at George Washington University Hospital in Washington, D.C., presented a session called "Civilian Mass Shootings: Is death from ballistic wounds preventable?" during a session at the 2018 EMS World Expo.
Sarani, along with fellow researchers, Dr. Edward Reed Smith, medical director of Arlington Fire and Rescue, and emergency medicine physician; and Critical Care Advanced Practice Paramedic Geoff Shapiro, conducted three separate retrospective studies using autopsy to analyze wound patterns of mass casualty victims who were killed during a civilian public mass shooting event.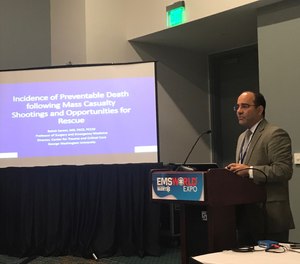 Memorable quotes on civilian public mass shootings
Here are some of the most memorable quotes from Sarani on preventable deaths following civilian public mass shooting events:
"What can we do differently to try to change outcomes?"
"Quality starts in the field. It continues in the hospital and it ends in the rehab center."
"Research shows the majority of deaths are not due to extremity wounds."
"Stop the Bleed is a beginning, not an end."
Top takeaways on civilian public mass shootings
Sarani shared the following research data on the causes of death during civilian public mass shootings to shift paradigms on the current beliefs and to identify changes needed to save more lives.
1. Are deaths preventable during mass shootings?
The short answer is yes. Through evidence-based research, there is new information that suggests there are some deaths during a mass casualty that are preventable. Sarani sums up the current research findings about civilian public mass shootings:
Most deaths are instant – brain, torso. Case fatality ratio is 45-60 percent.
Banning assault weapons will not impact most deaths.
Tourniquets have less of a role than anticipated in preventing fatality.
All causes of preventable death should be addressed, not just bleeding (i.e., chest injury, airway).
Rapid extrication of victims may represent a better strategy overall and needs to be studied.
We need to engage/teach lay-citizens how to help.
2. It is important to know basic ballistics when treating wounded patients
Sarani explained the importance of understanding the factors that impact wounds seen in shooting victims. "The bullet is designed to shed its energy into you. The bullet is not designed to go through you," he noted. As a ballistics review, Sarani presented the following factors that impact kinetic energy in the trajectory of a bullet:
Velocity
Mass/bullet size/caliber
Bullet shape/design
Cavitation effect/type of tissue injured
He further explained the difference in kinetic energy between multiple caliber ammunition used in relation to the type of weapon and the distance at which it is fired. He showed X-ray examples, illustrating how injuries in victims wounded by shotgun ammunition at a close range can mimic the effects of a slug, whereas in victims shot at a greater distance, the ammunition is more spread out. These differences in wounds could mean the possibility of treating gaping or superficial wounds on scene.
3. Defining civilian public mass shootings
Sarani presented historical data, reporting 1.5 million people were killed in urban America (1968-2015) by gun violence, which exceeds the number of 1.3 million people killed in U.S. wars from 1776-2015. Contributors include homicide, suicide and civilian public mass shootings. Recent FBI data indicates the more frequent the events, the more causalities ensue. The FBI and Congressional research define civilian public mass shootings by these characteristics:
Occurs in a public place
Involves four or more deaths, not including shooter
Gunmen who select victims indiscriminately
Shooting is not a means to an end (e.g. robbery)
4. Profiling wounding in civilian public mass shooting fatalities
Sarani noted current research published in the Hartford Consensus found that the most common cause of preventable death after injury was hemorrhage. Sarani and his colleagues set out to see of this was true for civilian mass public shootings by analyzing the differences in wound patterns and fatal wounds between civilian public mass casualties and previous research conducted on U.S. military combat fatalities in Operation Iraqi Freedom and Operation Enduring Freedom.
Over the course of two years, Sarani, Smith and Shapiro conducted three retrospective studies by analyzing autopsy reports of victims who were killed during a mass shooting event. The following civilian mass shooting data was collected:
Anatomic location of every wound (how many times was the victim hit?)
Probable site of fatal injury (where was the victim hit?)
Whether the wounds were potentially survivable assuming prehospital care was within 10 minutes and definitive trauma center care within 60 minutes. (why did the victim die, and could they have been rescued?)
After independent review of 139 autopsies received, Sarani and his colleagues compiled their data to reveal the distribution of all wounds by anatomic location (n=297) were:
Head (29 percent)
Chest/upper back (29 percent)
Extremity (20 percent)
Abdomen/lower back (14 percent)
Face/neck (9 percent)
The distribution of the fatal wounds by anatomic location (n=115) were:
Head (39 percent)
Chest/Upper back (38 percent)
Multiple regions (10 percent)
Face/neck (6 percent)
Abdomen (7 percent)
In this dataset, Sarani discovered "nobody died of an exsanguinated wound from an extremity." In a larger study that has not yet been published, Sarani found a 7 percent incidence of extremity hemorrhage that could have been treated with tourniquets.
Sarani and his colleagues then compared the data to the previous research on military fatalities. The difference in wounds were significant due to the military's use of body armor and the increased distance from the shooter. Sarani said during a mass shooting, the "shooters are not out to hit you in the kneecap." If close enough, they will shoot for the chest or the head.
Sarani applied the "Platinum 10 minutes of EMS arriving on scene" and patient transport within the "Golden Hour to the trauma center" based on the wounds described in the autopsies and the interventions available to treat the wounds. Evidence showed there was a 7 percent preventable death rate due to isolated chest wounds with no hemothorax or cardiac injury. "The only injury the victim[s] had was a pneumothorax that can be treated with a decompression needle and a chest tube."
Learn more about civilian public mass shootings research
Learn more about civilian public mass shootings with these research studies and EMS1 articles.