Pittsburgh synagogue donates $200K to first responders after mass shooting
The Tree of Life synagogue, where 11 people were killed in 2018, said Pittsburgh police officers and tactical medics saved lives in the shooting
---
Bob Bauder
The Tribune-Review
PITTSBURGH — The Tree of Life synagogue, where 11 people died in a mass shooting two years ago, has approved a $200,000 donation to the Pittsburgh Public Safety Department.
Pittsburgh City Council on Tuesday introduced a resolution that would authorize acceptance of the gift.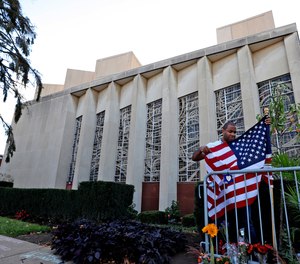 A half-dozen police officers were injured and city paramedics and doctors risked their lives during a gun battle on Oct. 27, 2018, with Robert Bowers, who remains jailed pending federal prosecution. Donations poured in for city first responders and the synagogue following the event.
Pittsburgh Public Safety Director Wendell Hissrich said the city was "incredibly grateful for this generous grant."
"I would particularly like to thank Tree of Life Past President Sam Schachner, current President Carol Sikov-Gross and Vice President Alan Hausman for recognizing the importance of procuring lifesaving equipment and vehicles," he said. "While we never want to experience another devastating tragedy like the events of October 27th, 2018, this donation will go toward equipping first responders with the resources they need to protect Pittsburgh."
The synagogue's Board of Trustees, including members of the Tree of Life, New Light and Dor Hadash congregations, along with the Independent Committee, approved the gift. The money comes from donations.
Tree of Life members suggested that it be used to purchase vehicles and equipment for active threat and mass casualty situations, noting that city police and tactical medics saved the lives of two congregants.
———
©2020 The Tribune-Review (Greensburg, Pa.)
McClatchy-Tribune News Service