Paris massacre rapid response: EMS leaders must prepare for Hybrid Targeted Violence in the U.S.
EMS, fire and police must work together to plan and train for HTV responses
---
What happened: More than 100 people have been killed at multiple, coordinated terror attacks in Paris. The death toll may rise as police and EMS continue to respond to and treat the victims.  
Why it's significant to EMS: Hybrid Targeted Violence
For several years the EMS response to an active shooter incident has been evolving from a wait in the cold zone for a declaration of scene safety to a Rescue Task Force (RTF) model. EMS personnel, with a police escort, rapidly move into the warm zone to begin the treatment of patients with life threatening hemorrhage or airway compromise.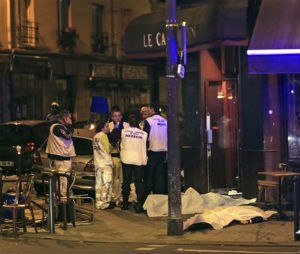 The unfolding events in Paris represent a different and increasingly violent type of threat. Jim Morrisey, a terrorism preparedness expert and paramedic, described this event as a "Hybrid Targeted Violence" (HTV) attack which is defined as the use of violence to target a specific population, using multiple and multifaceted conventional and unconventional weapons and tactics while attacking several locations simultaneously.
Top Takeaways: Need for HTV planning and training
Violence, in any form, against innocents — people enjoying an evening at a café, concert goers, or fans at a soccer game — is sickening. EMS professionals, while we might sit slack-jawed watching the unfolding coverage of the events in Paris, have an obligation to be asking, "What if?"
What if this was my community or country? And how will I learn about and prepare for active shooter incidents and a new emerging threat: hybrid targeted violence?
Here are three takeaways.
1. Lone wolf or coordinated attack?
The majority of active shooter incidents are carried out by a single shooter, often labeled a "lone wolf". Most incidents end in a few minutes and soon after the shooter's first encounter with responding police officers. But in those minutes responders don't know if there are other attackers. Maintain situational awareness and don't let your guard down.
2. Reassign all units from low-priority calls to terrorist victims
There are few EMS systems around the globe where medics are sitting idle at a station washing the ambulance and waiting for a call. EMS leaders need to expect and prepare for that when an active shooter incident or hybrid targeted violence attack happens that most ambulances will already be in service responding to, assessing, and transporting patients.
Hospitals have long practiced on how to clear patients from the emergency department to prepare for a surge of patients from a terrorist attack. EMS agencies need to plan for and practice how to disengage from less urgent responses should there be an urgent need for paramedics to care for victims seriously wounded in a terrorist attack. This could potentially mean bringing patients to their point of origination or leaving them in the care of well-meaning bystanders.
3. Immediate local impact, global long-term disruption to EMS system design, training and budgeting
The impact of this incident on Paris paramedics is immediate, severe and significant. I am thinking of them, sending well wishes, and looking forward to learning of their acts of determination, heroism, and sacrifice.
For the rest of us, the likely impact of hybrid targeted violence will cause a long-term disruption to EMS system design, training, and budgeting. A week ago, at the AHA Science Sessions, I listened to a Paris physician describe the use of prehospital extracorporeal membrane oxygenation (ECMO) for patients in refractory and persistent VF/VT. A 24/7 ECMO team is dispatched to every cardiac arrest. This is an amazing resource expenditure for a small group of patients.
EMS chiefs everywhere, with their counterparts in fire and police departments, are being asked or will soon be asked by elected officials and citizens if their departments are prepared for a coordinated terrorist attack like the one in Paris. Meeting preparedness expectations is likely to disrupt or pause innovations, like prehospital ECMO, reprioritize training topics, and change purchasing decisions. But this time, unlike the post 9/11 era of terrorism and all-hazards preparedness, I expect EMS will be asked to prepare without significant increases in local, state or federal funding.
What are your thoughts on the events in Paris? Is your agency's active shooter incident preparedness applicable to an HTV attack? We want to hear from you in the comments or email your thoughts to editor@ems1.com.