Dov Maisel on Israel's MCIs, emergency response
United Hatzalah volunteer emergency response Director of Operations Dov Maisel speaks to EMS1 from Jerusalem about resiliency in the face of recent mass casualty responses and the ongoing response to rocket attacks
---
In this EMS One-Stop With Rob Lawrence special edition, Rob speaks with Dov Maisel, director of Operations for United Hatzalah/Untied Rescue volunteer emergency response organizations.
Dov joins in from his operational headquarters in Jerusalem and he discusses the events in Israel that have caused all Hatzalah responders to respond to the absolute limits of their endurance. 
In the past weeks, Israel and Hatzalah has dealt with two very severe and fatal major incidents – the crush incident at Mount Meron, with over 45 killed and 200 injured, and a synagogue collapse in the West Bank  – as well as the ongoing response to rocket attacks.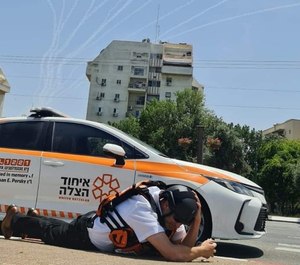 During the podcast, Dov received many air raid warnings and describes the actions taken upon receiving an alert and the mere seconds an individual has to seek cover for a local warning.
Dov also specializes in a mass disaster, rescue and recovery training for both the civilian and military arenas. In addition to his many fields of expertise, he leads Israeli rescue missions to disaster-struck countries, such as Haiti and Nepal, and has been spearheading international expansion by helping cities all over the world develop community-based emergency response programs based on the model of United Hatzalah.
Watch: United Hatzalah volunteers take cover as incoming missiles encounter the Iron Dome air defense system (Video/United Hatzalah Israel)