Wis. paramedic honored after losing battle with cancer
Milwaukee Fire Department Lt. Odell Minor died after serving 24 years as a paramedic
---
By EMS1 Staff
MILWAUKEE, Wis. – Members of the Milwaukee Fire Department honored Lt. Odell Minor who died March 6 after a battle with cancer.
WTMJ 4 reported that Minor had served as a paramedic with the MFD for 24 years before going on duty disability in 2009 after a cancer diagnosis.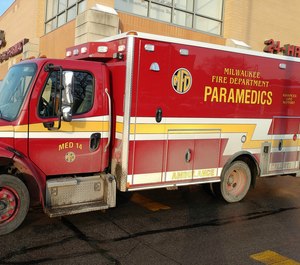 In a Facebook post, the department expressed their condolences to the family and appreciation for Minor's commitment to the community and his fellow first responders.
"For those of us that had the pleasure to work alongside Odell, remember the good times, as we are the blessed ones to have had the opportunity to work with him," the post read. "He was a kind and caring man with a great attitude about our profession and the community he served. His smile and laughter is one that is not easily forgotten."