Narcan nasal spray approved by FDA
Combating opioid overdose epidemic, the leading cause of accidental death in the U.S., is a top FDA priority
---
SILVER SPRING, Md. — The U.S. Food and Drug Administration approved Narcan nasal spray, the first FDA-approved nasal spray version of naloxone hydrochloride.
Drug overdose deaths, driven largely by prescription drug overdoses, are now the leading cause of accidental death in the U.S. — surpassing motor vehicle crashes.
"Combating the opioid abuse epidemic is a top priority for the FDA," said Stephen Ostroff, M.D., acting commissioner, Food and Drug Administration. "We cannot stand by while Americans are dying. While naloxone will not solve the underlying problems of the opioid epidemic, we are speeding to review new formulations that will ultimately save lives that might otherwise be lost to drug addiction and overdose."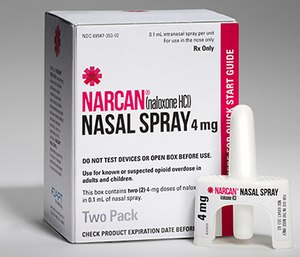 In 2013, the Centers for Disease Control and Prevention reported the number of drug overdose deaths had steadily increased for more than a decade. 
The FDA granted fast-track designation and priority review for Narcan nasal spray to facilitate development and expedite review of the drug. Narcan nasal spray is being approved in less than four months, significantly ahead of the goal date of Jan. 20, 2016.
In clinical trials conducted to support the approval of Narcan nasal spray, administering the drug in one nostril delivered approximately the same levels or higher of naloxone as a single dose of an FDA-approved naloxone intramuscular injection, and achieved these levels in approximately the same time frame.
"This easy-to-use intranasal formulation will no doubt save many lives," said Nora Volkow, M.D., director, National Institute on Drug Abuse at the National Institutes of Health. "While prevention is the ultimate goal, the drug's successful development illustrates how public/private scientific partnerships can play an important role in responding to a national crisis right now."