Calif. volunteers who hand out Narcan face possible loss of program funding
Gov. Gavin Newsom wants to spend millions to provide Narcan but the end of grant funding may impact delivery
---
By Emily Alpert Reyes
Los Angeles Times
SACRAMENTO, Calif. — Gov. Gavin Newsom wants to spend hundreds of millions of dollars in the next four years to provide Narcan, the nasal spray with naloxone that can yank someone out of an opioid overdose, to combat the deadly rise of fentanyl in California.
But many community groups that routinely hand out the lifesaving medication fear their workers could soon be facing layoffs, with the disappearance of a key grant that helped pay for day-to-day expenses at "harm reduction" organizations across the state.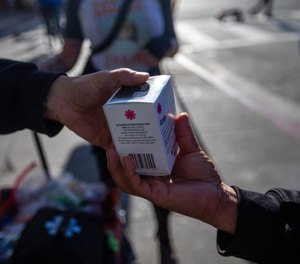 If that grant money goes away, "we're dead," said Tom Ewing, executive director of the Sierra Harm Reduction Coalition in El Dorado County.
Such groups hand out clean syringes and other supplies to help people who use drugs avoid dangerous and deadly infections. In California, they have played an outsized role in handing out Narcan and injectable naloxone to the people most likely to use it: As of early May, they had received 31% of the free doses allotted through a California program but accounted for 60% of the overdose reversals using that medication that had been reported.
"It's clear that they're the best people to do it," said Mary Sylla, director of overdose prevention policy and strategy for the National Harm Reduction Coalition, an advocacy group that received some of the funding to assist grantees. If California does not ensure funding for people who routinely get naloxone to those who need it, the risk is that "we're going to end up with a lot of Narcan sitting on shelves in Sacramento."
The California Harm Reduction Initiative grant program provided $15.2 million to support dozens of programs after state lawmakers approved the money four years ago.
The median annual grant was $112,500 — nearly half the median budget for groups that received the money, an analysis by the research group RTI International found. Many harm reduction programs across the state have relied on grants to pay for staff and other day-to-day expenses.
In El Dorado County, Ewing said the state grant was the only funding that the Sierra Harm Reduction Coalition had gotten, save for small donations. It has just two employees, including Ewing himself, who works part-time as its executive director.
"It made us into a viable organization that effectively supported our community," providing mobile services such as Narcan distribution at least five days a week, Ewing said. "I am now giving out probably 2,000 to 3,000 doses of Narcan a month. I'm giving out 120,000 syringes a year" and collecting used ones to prevent litter, he said.
The group has helped scores of people annually who decided they wanted to stop using drugs entirely and seek treatment, regularly assists people with getting health insurance, and has found places for them to live, Ewing said. It also provides test strips for people to check their drugs for fentanyl.
"We take care of people every single day," he said. "We are the people on the street who actually listen to what's going on."
Community programs that got the grant money trained more than 22,000 people to prevent deaths with naloxone between 2020 and 2022, according to the California Department of Public Health. They handed out naloxone to 73% more people than programs that did not get the state money, the RTI analysis found.
That grant money runs out later this year, and Newsom has not suggested any new funding to replace the program in his budget plans.
That is "counterproductive," said Braunz E. Courtney, executive director of the HIV Education and Prevention Project of Alameda County. His organization has used the grant money to pay workers for its Black Drug Users Health Hub, which connects people to a range of services including medications to help with addiction treatment.
The result would be "to cut programs that are already funded to do overdose prevention, education and naloxone distribution," Courtney said.
In the face of the overdose crisis, the governor has proposed spending more than $220 million over four years on the state program that provides free naloxone; putting $30 million into efforts to develop a cheaper, generic version of the nasal spray; and additional spending to expand access to test strips that detect fentanyl, among other efforts.
"The governor is working closely with the legislature to develop this year's budget and fight the ongoing opioid epidemic," Newsom spokesperson Brandon Richards said in a statement, pointing to a plan unveiled by the governor earlier this year to tackle the opioid crisis.
When asked about concerns that harm reduction groups that hand out naloxone may have to cut employees because of the loss of the grant money, Richards pointed to state investments in training and supporting healthcare workers, including those focused on substance use disorders.
Newsom ramped up his proposed spending on naloxone significantly when he revised his budget plan in May, compared to his initial proposal in January. As California stares down a budget deficit, Newsom has proposed paying for such programs with money from legal settlements with opioid manufacturers.
Harm reduction groups rallied in Sacramento this month, arguing that the California Harm Reduction Initiative funding must be extended to save lives. To sustain harm reduction programs, the National Harm Reduction Coalition is pushing for California to devote $61 million to the community groups over four years, possibly by tapping the opioid settlement funds. State Sen. Scott Wiener (D-San Francisco) is one of the lawmakers championing the $61-million budget request.
"I'm really appreciative that the governor is proposing to invest aggressively in Narcan," Wiener said, calling it "incredibly important." But "we need to get Narcan into people's hands. And you do that through community infrastructure" — such as staff — "that can push the Narcan out."
Other groups and agencies do get free Narcan to hand out through the state distribution program, including police and fire departments and schools. But harm reduction groups have a specific mission of serving people who use drugs, aiding them without judgment, which helps them reach people reluctant to go elsewhere, said Jenna Haywood, co-chair of the End the Epidemics coalition, which is focused on HIV, sexually transmitted infections, viral hepatitis and overdoses.
"Stigma is the No. 1 barrier for a lot of people to enter into any kind of service, to receive healthcare, or to get resources like naloxone," Haywood said.
©2023 Los Angeles Times.
Visit at latimes.com.
Distributed by Tribune Content Agency, LLC.
McClatchy-Tribune News Service