Pinnacle EMS Quick Take: EMS leaders receive a dose of healthcare humor
Healthcare humorist David Glickman delivered an entertaining and inspiring collection of jokes, songs and stories to EMS leaders
---
ORLANDO, Fla. — Laughter was the best medicine for the 500 EMS leaders and paramedic chiefs attending the open keynote session at the Pinnacle EMS conference. David Glickman, a comedian and presenter, shared his insights into success, living in balance and leadership with laughter (and a few groans).  
A Pinnacle tradition is to invite a keynote speaker from outside EMS to inspire, entertain and educate. Glickman's humorous lessons on performance and productivity are an antidote to the constant change, increased expectations and lack of sufficient resources many EMS leaders are facing every day.  
Memorable quotes on humor therapy with David Glickman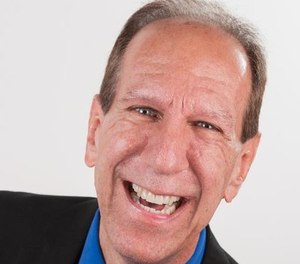 David Glickman gave a presentation of satirical observations and EMS-based punchlines. As such, much of what he said was memorable and humorous within the context of the presentation. Quoting Glickman's jokes, without the context or delivery, doesn't do justice to the laughs EMS leaders shared together. Here are two memorable quotes:  
"As a comedian, we look at a challenge people are facing and find a way to reframe the challenge. A slight shift in how you approach a challenge lets you achieve work-laugh balance." 
"Where do you draw the line? Never put anything in writing you don't want to see in your file at the Anti-Defamation League."   
Top takeaways on using humor techniques in EMS  
Here are three top takeaways from Glickman's lighthearted observations about using humor in EMS leadership.  
1. Often there is nothing funnier than the truth 
Glickman's observational humor was based on the types of people, challenges and jargon we regularly face in the EMS workplace. Through a series of jokes, songs and satire, Glickman found plenty of EMS punchlines.   
2. Reframe reality to see a novel solution 
The technique to reframe a problem or challenge to get a laugh can also be used to change the perspective on solving a real-world problem. Glickman encouraged participants to see the day-to-day challenges that might result from ePCR, to IT, to CAD from a different perspective to identify new or innovative solutions.  
3. Humor is not always the best medicine 
Glickman finalized his presentation by addressing when humor is inappropriate for the workplace. His advice, told through an anecdote about a joke that went too far, was straightforward, "When in doubt, leave it out."  
Learn more about humor in EMS  
To learn more about humor in clinical care and EMS leadership check out these EMS articles: