Atlanta EMS members work to unionize
The group of medics, EMTs and nurses said that making Grady EMS a more appealing workplace would help with retention and call response
---
Michael E. Kanell
The Atlanta Journal-Constitution
ATLANTA — A group of workers is trying to organize a union for the approximately 180 employees of Grady Emergency Medical Services that provide ambulance and other services to the city of Atlanta and many surrounding counties.
The group, including paramedics, emergency medical technicians, nurses and others, say they hope that a union will give them leverage to improve the way they are treated and how they are paid, changes they say would improve the service Grady provides.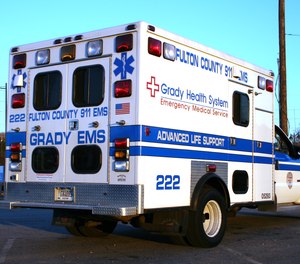 "Georgia is pretty notorious for being a tough place to unionize," said Leon Savino Jr., a California-based member of the International Association of EMTs and Paramedics, under which the Grady workers are seeking to unionize. "But the hospital management is playing with people's lives."
Workers said they want Grady to succeed and believe a union would help make Grady EMS a more attractive place to work.
Grady, one of the region's best-known institutions, has been the ambulance provider in the city for more than a century. But it has lately been under fire for slow response times on 911 calls. Some workers blame those problems on inadequate staffing and they say the treatment of employees is a big reason that Grady struggles to retain staff.
"People aren't getting ambulances and the city is getting upset," said a paramedic, whose identity is being withheld because he fears retaliation for speaking publicly. "We'll have 40 calls holding, some of them priority calls, and we won't have anybody who can go."
Grady officials have said the criticism is unwarranted, although they acknowledged longer wait times for some calls. They have blamed a staffing shortage caused by the pandemic, but the hospital has also said it is restructuring the dispatch system to improve emergency responses.
---

Read more
City buys Atlanta FD 2 rigs due to slow local EMS response
Grady EMS has been under fire for response times, and a hospital emergency department's closure may make them worse
---
In response to a reporter's questions about the organizing, Grady issued a statement that affirmed the hospital's commitment to a safe and healthy work environment.
"We value the hard work and dedication of our EMTs, paramedics, and other staff members and have worked diligently to compensate our employees accordingly," the statement said. "In recent years, Grady EMS has implemented leadership changes, given salary increases, and made schedule adjustments to improve the workplace experience — all while navigating challenges facing EMS providers nationwide."
Management does talk with employees often "to address employee concerns as they arise," the statement said.
Yet workers who are organizing say they have been unsuccessful at getting their concerns met. They complain about the equipment, about pay scales, about how scheduling is often done in ways that are disruptive to workers' families.
They also say union literature has been removed from otherwise unpoliced bulletin boards.
---
Read next
Atlanta EMS team responds to suspected monkeypox case
Grady EMS medical director, Dr. Lekshmi Kumar, said that the team is trained and expects more such calls
---
Federal law requires organizers to collect the signatures of 30% of those in the unit to force a vote on a union. Organizers say they are about halfway there. In such a vote, 70% approval is required for establishment of a union. If the organizers do clear that threshold, it can still take months for management to negotiate a contract.
Because a lot of the discussion thus far has been in private, organizers say they don't know for sure how much support they have: Some workers are worried about being punished by management for being pro-union, but some others are skeptical about unions.
Even if the organizing falls short, publicity about the problems at Grady could help first-responders, organizers say.
___
(c)2022 The Atlanta Journal-Constitution
McClatchy-Tribune News Service