Fla. Paramedic 'fighting for his life' after collapsing at fire station
Erik Conde had been experiencing flu-like symptoms before he collapsed near the end of his shift last week
---
By EMS1 Staff
HALLANDALE BEACH, Fla. — A paramedic collapsed after experiencing flu-like symptoms.
ABC 10 reported that Hallandale Beach Fire Rescue paramedic Erik Conde, known as "Hulk" by his coworkers, collapsed as he was nearing the end of his shift Friday morning.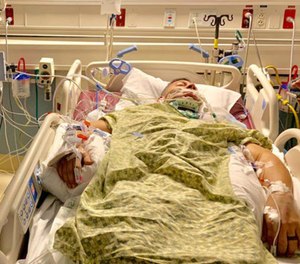 Conde was treated by his colleagues at the scene, before he was taken to Aventura Hospital and Medical Center intensive care unit. According to Capt. Brian Polomy, Conde was not breathing and his heart was not beating after his collapse.
A GoFundMe was created by Conde's colleagues to raise money for his wife and three young children. The page had raised more than $42,000 of its $100,000 goal in just three days.  
"As firefighters, as paramedics, we are used to coming to the assistance of others, it's not in our nature to ask for help," Polomy said. "Now we are asking for help."
He added that the issues plaguing Conde most likely stemmed from a lung infection.
"The diagnosis is that Erik's lungs were somehow injured, probably from an infection he'd been harboring," Polomy said.
Updates on Conde's medical condition are being tagged with the hashtags #HulkWatch and #HulkStrong. The department also changed their Facebook profile picture to reflect a Hulk-like figure in a firefighter uniform with Conde's name added.