Mom gives birth after crash; Chief: 'Very lucky we didn't lose anyone'
A combined effort from bystanders, paramedics and the fire department saved the life of a woman and her baby
---
By Paul Feely
The New Hampshire Union Leader
DUNBARTON, N.H. — A Dunbarton mother who gave birth to a healthy baby daughter via emergency Caesarean section is grateful to her husband and others who reacted quickly after a crash along the Stark Highway on Saturday.
"It all happened so fast," Kaitlin Fournier said Sunday night. "I could see the damage to my leg; my calf muscle was basically severed, and you go into a form of shock. I just kept yelling 'I'm pregnant,' because I just wanted the baby to be OK."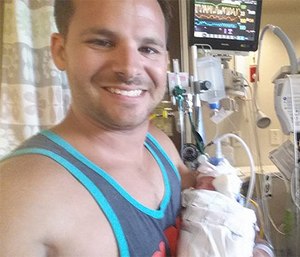 Fournier, 37 weeks pregnant with a due date of Aug. 16, was a passenger in a Cadillac Escalade driven by her husband Brad Fournier, 33, along with the couple's 5 1/2-year-old daughter Isabella in a car seat in back. They were traveling through the intersection of Gorham Pond Road and Stark Highway south around 12:50 p.m. Saturday when they were hit by a car driven by a 21-year-old woman from Ashland, who police say failed to stop at a stop sign.
The Fourniers' SUV flipped over several times.
"We are very lucky we didn't lose anyone in that accident," Dunbarton Fire Chief Jon Wiggin said Sunday.
Brad Fournier was instrumental in saving his wife's leg, Wiggin said.
"She suffered a serious leg injury, requiring a tourniquet, and he and some others at the scene were able to fashion one using his belt until we could get there and put one on," the chief said.
Kaitlin Fournier said people who lived near the crash site, whose names she was unsure of, helped her family until first responders arrived.
"It shows you what a great community we live in," said Fournier. "My husband gave a man, I think his name was Steve, his belt and asked him to hold it like a tourniquet on my leg until firefighters got there, so my husband could stay with our daughter. They had no idea what they were getting into, but they helped us."
Fournier said on the way to Concord Hospital, paramedics located her baby's heartbeat.
"After we got to the hospital, I was being prepped for surgery and my leg began to bleed out," said Fournier. "My daughter's heartbeat started to drop, and they performed the C-section and then operated on my leg."
On Sunday, Fournier and new daughter, Olivia, were recovering nicely.
Allison Locke Swindlehurst was a volunteer firefighter with the Dunbarton Fire Department who responded to the crash.
"For being one of the first on the scene, I would like to say 'Brad your are a hero,'" wrote Swindlehurst in a Facebook post. "Your quick thinking, and I mean quick — you were out of that vehicle and had a tourniquet on you wife's leg. You saved your wife's life."
Kaitlin Fournier said her family feels very fortunate, noting, "doctors expect me to recover without any nerve or artery damage. This will be a crazy story to tell someday."
The driver of the other vehicle involved in the crash was also taken to Concord Regional Hospital; police have not yet said if they will charge her. Anyone with information is asked to contact Sgt. Chris Remillard via email at dunbartonpd@gsinet.net or call 774-5500.
Copyright 2016 The New Hampshire Union Leader (Manchester, N.H.)