Fewer fire fatalities, but spike in medical emergencies in 2019, FDNY says
Fire fatalities in New York City fell by 25% last year, but 2019 also saw the second-highest amount of medical emergencies in FDNY history
---
Thomas Tracy
New York Daily News
NEW YORK — The number of people who died in fires fell by 25% last year, even as emergency crews responded to a record number of medical emergencies, the FDNY said Wednesday.
Sixty-six people died in fires across the five boroughs in 2019, 22 fewer than the 88 victims in 2018, officials said.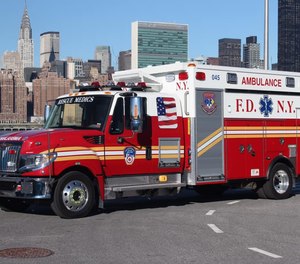 Yet the number of medical emergencies jumped by more than 2,300, bringing last year's total to 1,531,870 — the second highest in the FDNY's history, officials said.
More than a third of the medical calls were for life-threatening emergencies such as heart attacks, people who fell unconscious or choking victims, officials said.
"Thanks to the brave work of every FDNY member, and despite a growing number of medical emergencies our members face, fewer New Yorkers lost their lives in fires in 2019," FDNY Fire Commissioner Daniel Nigro said in a statement Wednesday.
"This outstanding achievement is the result of our members responding quickly, working together to remove those trapped by fire, providing unrivaled emergency medical care, thoroughly investigating fires and inspecting buildings and areas of public assembly throughout the city to ensure the safety of the public we serve."
First responders were called to 1,529,569 medical emergencies in 2018, according to the FDNY.
Oren Barzilay, president of the FDNY EMS Local 2307, argued the statistics prove that emergency medical technicians and paramedics deserve better pay.
"With such limited resources, increased calls, increased assaults on EMS, it's amazing we're able to achieve such numbers," Barzilay said. "EMS is a vital service for our city, yet the the city refuses to acknowledge this by compensating our workforce with livable wages."
Nigro credited the drop in fire deaths to the department's aggressive educational campaign. Last year the FDNY participated in more than 7,500 events, where they taught fire safety and the importance of smoke alarms and carbon monoxide detectors to more than 580,000 people.
Of the 66 fatal fires in 2019, 15 were sparked by electrical issues, and 13 were caused by cooking accidents. Two fires were caused by self-immolation, in which the victim either accidentally or purposefully set themselves on fire, the FDNY said.
Six fires still remain under investigation, officials noted.
Nigro said 2019 marked the 14th straight year where less than 100 fatal fires took place in the city. The deadliest year was 1970, when 310 people died in fires.
———
©2020 New York Daily News
McClatchy-Tribune News Service