'It's just unbelievable': Chicago firefighter's two surviving children die days after blaze
Firefighter Walter Stewart lost his youngest and oldest kids following the deaths of their brother and mother
---
By Rosemary Sobol
Chicago Tribune
CHICAGO — A mother and her three children have all died following a blaze at the home of a Chicago firefighter in the Montclare neighborhood on the city's Northwest Side, officials said Saturday.
A little boy, two-year-old Emory Day-Stewart, and his sister Autumn Day-Stewart, 9, died most recently, earlier Saturday and Friday respectively, according to the Cook County medical examiner's office.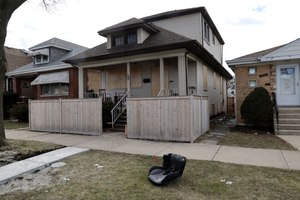 Their mom, Summer Day-Stewart, 36, died Thursday and her son, 7-year-old Ezra Stewart, died Wednesday night, the medical examiner's office said.
The firefighter, Walter Stewart, was on-duty and responded to a fire in his own home in the 2500 block of North Rutherford Avenue and tried to save his wife with CPR in front of the family's house Tuesday night.
Police earlier said the 2-year-old was a girl and said the 9-year-old girl was 7.
When Stewart heard his own address as the location of the blaze, a Chicago Fire Department chief drove him from a fire station five miles away.
First responders found Day-Stewart and the three kids unconscious from smoke inhalation and in grave condition, officials initially reported.
Outside his burning home, the young firefighter performed CPR on his wife, Fire Department spokesperson Larry Langford said earlier.
---
COMPLETE coverage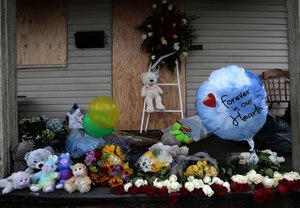 Chicago firefighter's wife, 3 children critically injured in fire
Boy, 7, dies after blaze at Chicago firefighter's home; mom and two siblings critical
'It's hard to put into words': Chicago firefighters rally around colleague after fire kills son
Wife of Chicago firefighter dies days after he responded to fire at their home
---
"It's gotta be like hell," Langford said earlier. "We're doing all we can to support him."
The veteran fire spokesperson said earlier he had never seen anything like this nightmare scenario during his many years with the department. Firefighters' homes have caught on fire, he said. Even fire stations have caught fire, he added.
But Langford said he couldn't remember the department facing a tragedy like this.
"As long as I've been associated with fires, I can't fathom what he's going through. It's just unbelievable. I can't even think of what it feels like," Langford said earlier.
The fire began in the home's kitchen but its cause was not known yet, Langford said earlier.
The department is raising money to help Stewart's family face the "unspeakable tragedy" through its charity, Ignite the Spirit.
Chicago Tribune reporter Jake Sheridan contributed.
©2023 Chicago Tribune.
Visit chicagotribune.com.
Distributed by Tribune Content Agency, LLC.
McClatchy-Tribune News Service