Colo. boy, 12, dies after weeks on life support following online 'blackout challenge'
Family members say the boy's twin brother tried to resuscitate him before the ambulance crew arrived
---
Jami Ganz
New York Daily News
AURORA, Colo. — A young Colorado boy has died after his family says he attempted a dangerous TikTok challenge.
Joshua Haileyesus died on Saturday, according to an obituary published by Denver's Olinger Hampden Mortuary & Cemetery. He would have celebrated his 13th birthday next month.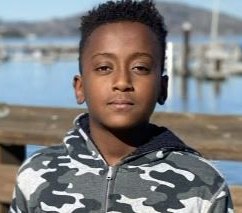 Joshua's death, following 19 days on life support, was announced on a GoFundMe page created for his medical and, subsequently, funeral expenses.
The funeral will be held Monday afternoon.
"To everyone who has prayed relentlessly and shared our burden during this trying time, we thank you. Your prayers and your love have comforted us and we are grateful for your support," read a statement on the page.
The young boy, according to the fundraising page, died following the so-called Blackout Challenge "which dares participants to choke themselves until they lose consciousness."
Other names for the deadly challenge include the Passout Challenge, Speed Dreaming, The Game of Choking, or The Fainting Game.
"On Monday, March 22nd, Joshua was discovered breathless on the bathroom floor by his twin brother who tried to resuscitate him until the neighbors and the ambulance arrived. Unbeknownst to his parents, Joshua had been playing this dangerous game completely unaware of the risks involved," the GoFundMe notes.
Joshua, known for his intelligent, funny, caring, and curious nature, hoped to join the Army and eventually have a career as a First Responder, according to the page.
Joshua's family also wants to raise awareness about the Blackout Challenge "and the real risks involved in not having knowledge of what kinds of activities children are involved in," read the GoFundMe.
"At TikTok, we have no higher priority than protecting the safety of our community, and content that promotes or glorifies dangerous behavior is strictly prohibited and promptly removed to prevent it from becoming a trend on our platform," the company said in a statement last month, according to The Associated Press.
When searching #blackoutchallenge on TikTok, the site provides a notice rather than results, which explains that the "phrase may be associated with behavior or content that violates our guidelines. Promoting a safe and positive experience is TikTok's top priority."
___
(c)2021 New York Daily News
McClatchy-Tribune News Service