West fertilizer plant explosion survivors reflect 5 years later
Of the 15 that died, 12 were first responders who rushed to the scene; a Fallen Hero memorial is nearly completed
---
By EMS1 Staff
WEST, Texas — Five years after an explosion at a fertilizer plant killed 15 people, the community is still rebuilding and struggling with the tragic incident.
WFAA reported that the community of 2,800 is working to move past the April 17, 2013 incident that caused $200 million in damage, including Mayor Pro Tem Steve Vanek, who was a volunteer firefighter at the time.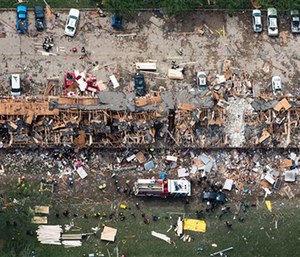 "Fifteen people died. It could've been 50 real easy and real quick," Vanek said.
Of the 15 that died, 12 were responders who rushed to the scene.
"They were family. That's just not a term to me. They were family," Vanek said.
Since the explosion, West has slowly rebuilt what was destroyed, including a new middle and high school and a nursing home.
"We had to redo sewer and water and roads," Vanek said. "It has taken time."
"It hasn't been easy for the past five years. There's a process you try to go through physically, emotionally and spiritually," Joe Pustejovsky, father of fallen firefighter Joey Pustejovksy Jr., said.
Pustejovksy  is overseeing the nearly-completed construction of the Fallen Hero memorial, which includes 15 concrete slabs with individual busts to honor each person who died, a fountain with an eternal flame and a bench that features an engraving of what is supposed to represent the frantic heartbeat of the responders.