A closer look at the EZ Glide with PowerTraxx
The update will help to reduce back injury to medics who are transferring heavier patients
---
NEW ORLEANS — Visitors to EMS World Expo 2012 in New Orleans were given a first-hand look at Ferno's EZ Glide with PowerTraxx on the exhibit floor.
This power update to Ferno's popular stair chair promises to reduce back injury in medics moving patients weighing up to 500 pounds up and down stairs. Ferno representatives demonstrated the chair with the innovative caterpillar tracks, like the ones on a tank.
The tracks and motor carry the load of the patient rather than the operator, and the chair itself only weighs about 50 pounds.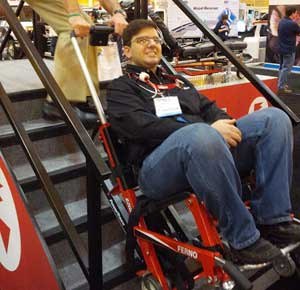 The controls were so simple and intuitive that even I could use them. You can use the controls to limit the track speed and brake and lock the tracks if you have to stop on the stairs.
The battery recharges in about half an hour, and it's available at hardware stores in case yours dies or gets lost on the road.
One of the coolest features of this stair chair is the removable seat panels for bariatric patients. The other best part, and the part that Ferno representatives said placed their product ahead of the competition, is the track-to-ground clearance. An entire inch there makes it easier to maneuver the chair, especially on carpet or surfaces where it could get tripped up.
If you already have an EZ Glide, you don't have to purchase the entire system; you can upgrade your existing chair with a PowerTraxx Kit.