Blocking apparatus: Are attenuating units the next must-have apparatus type?
More and more departments are adding blocking units to protect emergency scenes
---
"Necessity is the mother of invention." And thank goodness for that, as firefighters, EMTs and paramedics are at their most creative when they need something to work.
Emergency responders have always been a creative bunch. Over the years, I've seen the magic of that imagination manifest at many events and while addressing many issues, especially in the area of specialty apparatus. From boats to all-terrain vehicles to dump trucks and buses, we have seen apparatus adaptations to answer the needs of firefighters and EMS providers around the world, typically spurred by our "field needs" amid a lack of funding for the exact thing we needed. 
While every one of these apparatus adaptations has had an impact on the industry in one way or the other, few, if any, have been built to take the impact we're talking about today.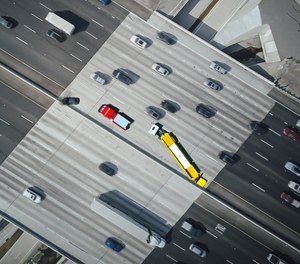 Blocking apparatus, while not designed to be destroyed, are intended to protect the first responders and other emergency vehicles on the incident scene. They are designed to take the impact of a vehicle, maintaining the integrity of the emergency scene even in case of a secondary crash.
Who owns the roadway?
I recall a time when the fire service just blocked a part of the lane we needed at roadway-based emergency scenes. Maybe we found a cone on the side of the road and let the police handle the traffic. It seemed there were fewer secondary wrecks or incidents back then. Most of the secondary wrecks involved passenger vehicles rear-ending another passenger vehicle as drivers crawled past the scene, gawking at the movement of emergency crews. Aside from dealing with minor injuries or fluid leaks, most of those incidents "weren't our problem." Law enforcement officers made it abundantly clear that the roads were their territory.
While many (including yours truly) have previously opined that traffic management is not the fire department's responsibility, it is undeniable that the safety of our personnel IS one of our primary responsibilities. No other agency has demonstrated the consistent ability to provide a high quantity/quality of site protection as quickly as the fire department, especially during rapidly evolving emergency incidents. Road service/safety patrols and highway departments do everything they can, and are great at the long-duration events, but in most cases, the fire department responds with the "big stuff" faster than the others.
Over the years, roadways have expanded, congestion has increased, and speed limits have fluctuated, all while populations have skyrocketed in many of our response areas. Of course, fire departments rarely grow at a similar rate, thus adding volume to an already busy business.
Add to that the vehicle features that put the driver more at ease, some almost literally on auto-pilot – cruise control, seatbelts and airbags, warmed and heated seats, and any number of safety-minded alerts – plus the distractions we didn't use to have (mainly smartphones), and a significantly more dangerous roadway environment now confronts our first responders.
I'm pretty sure I speak for every fire chief out there when I say that I'd like the highway department and police to provide the traffic control and blocking we need at incident scenes. In fact, depending on your state's laws, it might be their statutory responsibility. Unfortunately, what I'd like to see doesn't always align with state statutes, and the reality is that those entities have been unable to provide any better coverage than us to keep our folks safe. Agencies MUST work together!
The blocking apparatus evolution begins
The Emergency Responder Safety Institute (ERSI) was born out of the need the fire service saw for improved roadway safety on the busy interstates around the country. In 2019, ERSI – a committee of the Cumberland Valley Volunteer Firefighters Association – produced a white paper that addresses the hardening of fire department vehicles for roadway blocking. The report summarizes a workshop convened during the 2018 National Traffic Incident Response Awareness Week on how to harden blocking vehicles to protect responders and the public. ERSI also published important resources for fire departments looking to better protect emergency scenes:
The paper, along with these training resources, are essential tools departments can use to prepare for both roadway blocking and vehicle hardening.
Taking action to protect first responders
Many of the adaptations we've seen in equipment and apparatus have risen out of a particular incident that was challenging or a need that was unmet by available industry equipment. The need for this service is evidenced by the growing number of struck-by incidents we see in our news feeds daily. At the time of this writing, 40 responders, including tow operators, have been killed in roadway incidents in the United States in 2022.
Departments across the country are doing what they can to address this growing problem.
Some states have employed fire-police divisions/units/teams, either affiliated with a sheriff's office or similar and a fire department, that have several levels of traffic control units with various capabilities and responsibilities. Pennsylvania has what is regarded as one of the most robust fire-police units in the country, with the primary responsibility of traffic control at incident scenes and special events. These units employ various response vehicles (pickup/utility trucks or similar) loaded with traffic cones, signage and sometimes arrow boards that will at least provide some advance warning. Most of them are not equipped with impact attenuators, but at least one department below is paving the way in that realm.
There are also various pickup truck or utility-type units across the country that provide some level of fire department traffic control service, either ad hoc or in full-time deployment.
Below is a listing of some departments that have purchased a new or retrofitted a blocking unit for fire department responses. There are likely additional departments with similar equipment or other types of attenuating systems. I encourage you to share those with us at editor@firerescue1.com.
Michigan
Grand Rapids was the first fire department in the United States that I am aware of to employ a blocking attenuator as part of the fire department fleet. The fire department converted an older city water department dump truck converted to a blocker.
The Comstock Fire Department has a new traffic attenuator trailer with a directional sign board.
Wyoming and Zeeland Township also have blocking apparatus, too.
Pennsylvania
The Alpha Fire Company in Pennsylvania took delivery of a demo attenuator vehicle in August. Staff is training on the vehicle, which is being outfitted with equipment for its intended use.
South Dakota
Sioux Falls, South Dakota, has deployed a tow-behind attenuating device to protect its emergency vehicles and personnel. A trailered unit may reduce the number of drivers needed to get the equipment there, but trailering also results in limited positioning and other uses for that vehicle.
Texas
Several departments have some form of attenuating system:
Travis County ESD No. 2 – an older fire engine converted to a blocker:
NEW: The Pflugerville Fire Department's new blocking apparatus is the first of its kind in Central Texas!

Made from a retired fire truck, this new blocking apparatus will help protect first responders while operating on high-traffic roadways like I-35. pic.twitter.com/bka19rakp4

— Lindsey Ragas (@LindseyRagas) September 2, 2022
Irving – Multiple older fire engines converted to blockers:
Denton – A custom-built emergency response vehicle blocker:
Spring – Double-duty high-water rescue units outfitted with arrow boards and traffic control equipment: 

We sometimes wince at the thought of spending money on apparatus or equipment that doesn't meet the core fire-focused mission. But when it pays off, it really pays off.
Within days of being placed in service a little over a month ago, the return on investment for the Carrollton unit was realized. The vehicle, which had just been positioned on a vehicle wreck scene, was struck by another vehicle, protecting the crews and apparatus working the original incident.
What matters most
Making sure that "everyone goes home" applies to every type of incident we respond to. When it comes to protecting our responders and our front-line apparatus, it really doesn't matter who owns the roads or how much it costs!

Request product info from top EMS Specialty Vehicles companies
Thank You!