FDNY medic jumps into river to save drowning woman
The paramedic swam to the patient in the Hudson River and stabilized her until a rescue boat could bring her to an ambulance
---
NEW YORK — An FDNY rescue paramedic jumped into the Hudson River Monday to save an exhausted woman in 25-foot-deep water.
Niall O'Shaughnessy and Moses Nelson, paramedics from Station 4, responded to a report of a person in the water and found Parks Department staff had thrown the patient a flotation device and were attempting to remove her from the water.
"I realized that she was exhausted and she was having a hard time handling the life ring properly," O'Shaughnessy said. "I was worried she was about to go under water for good."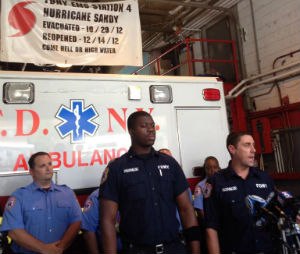 O'Shaughnessy jumped off the pier to help the patient. He swam to the patient, calmed her, began medical assessment and helped keep her stable with the flotation device.
"She was very nervous initially, but I told her additional FDNY members were coming to help her," O'Shaughnessy said.
Nelson coordinated rescue efforts from the shore with FDNY Fireboat Marine 1-Alpha and helping direct it to the patient's exact location.
"As a rescue paramedic, we are trained for this. We shouldn't be considered heroes; this is our job," said Nelson.
O'Shaughnessy and firefighters from Marine Company 1 brought the patient into the boat and transported her to shore for further medical care. Another ambulance then transported her to the hospital.
This wasn't O'Shaughnessy's first river rescue. In August 2014, O'Shaughnessy helped save a patient in cardiac arrest from the Hudson River during the New York City Triathlon.
"Everyone in this job wants to help somebody; it's our second nature," O'Shaughnessy said.
Request product info from top EMS Radios companies
Thank You!