Rapid Response: EMT/firefighter murdered in broad daylight
Violent actions against emergency responders are common, but what does it mean when the violence is random and public
---
What happened: Wednesday afternoon Lansing Mich. Firefighter/EMT Dennis Rodeman was struck by a pickup truck while he was collecting donations for the Muscular Dystrophy Association. Rodeman later died of his injuries. Police believe the attack was deliberate. The suspect, Grant Taylor, 22 is alleged to have had an altercation or argument with Rodeman and circled back to hit Rodeman.
Why it's significant: Emergency responders, including EMTs, paramedics and firefighters, regularly come into contact with violence, but usually in the course of responding to an incident. For example, earlier this week a Milwaukee firefighter was punched in the face while responding to a medical emergency. Also this week a Detroit medic was punched in the face and a Texas fire chief was stabbed while looking for a missing patient.
Rodeman, on the other hand, was participating in a broad daylight and very public event to raise money for a well-respected charity.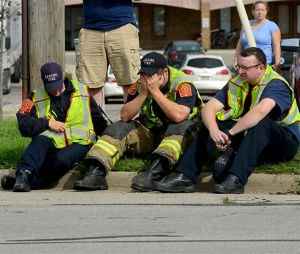 Top takeaways: The death of FF/EMT Rodeman is the first fatality in the 61-year history of the MDA and IAFF Fill the Boot collaboration. But it comes at a time of growing (or at least perceived) distrust for emergency responders, especially police officers, from the public they serve.
As I reflect on the Rodeman's murder these are my top takeaways:
1. Remember and honor
While I seek to understand this senseless tragedy and any larger meaning I want to remember and honor the service of Rodeman. He was a U.S. Marine and served in Iraq.
2. Disengage and diffuse
Emergency responders frequently encounter people who are violent and confrontational with aspirations that might range from YouTube stardom to lethal harm. Regardless of the cause – criminal intent, drug or alcohol intoxication, brain injury or simply itching for a fight – we need to do our best to disengage from violent patients and diffuse threatening bystanders.
3. Highly visible as a helper
EMTs and medics need to be highly visible helpers and caregivers. Several Denver-area fire departments, after threats were made by an anonymous call to a 911 center, have ordered personnel to wear uniform shirts that clearly differentiate them from police officers. Aurora firefighters have been told to wear t-shirts instead of blue collared shirts with badges. Our uniforms and our actions need to constantly remind the public that are intent is help and service.
What's next: Learning Taylor's motive for killing Rodeman will not change the outcome of this tragedy. Nor will the crime dissuade us from serving our communities, both at their times of greatest need or suffering or by going above and beyond to support important charitable organizations, like the MDA. 
Further reading and viewing: