Hand washing is first step in disease prevention
the importance of hand washing can be answered with the question, "Have you ever killed someone with your bare hands?"
---
Article updated February 6, 2018
By Jamie Thompson
EMS1 Senior Editor
ATLANTA — Effective hand washing by EMS personnel is the most effective way to combat the spread of infectious diseases in the prehospital environment, a session at the 2009 EMS World Expo in Atlanta was told.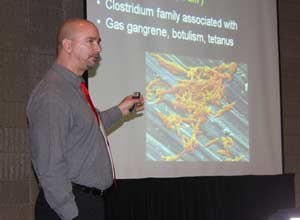 Tim Hillier, Director of Education, M.D. Ambulance, Saskatoon, Saskatchewan, Canada, outlined the basic — but often overlooked — steps to ensure germs are not passed on to patients during the session Wednesday. Those hand washing steps are: 
Use soap and water (water alone does not get rid of germs)
Rub hands together for 20 seconds - the time it takes to sing "Happy Birthday" twice
Rinse hands for 10 seconds
Dry hands with a clean towel
EMS needs to do better at disease prevention through cleanliness 
Hillier said EMS generally needs to do a better job of ensuring personnel follow the basic principles of keeping things clean.
"From an EMS perspective, we really need to learn this," Hillier said. "We need to make sure everything is clean. We need to make sure surfaces are clean and we need to make sure hands are clean.
"Let's make sure we are not making our patients sick."
Hillier said the importance of hand washing can be answered with the question, "Have you ever killed someone with your bare hands?"
Hillier said, "We need to start thinking about this a lot more than we currently do in EMS. We need to make sure we wash our hands properly."
The CDC estimates there are 1.7 million hospital-acquired infections alone in the United States annually, Hillier told the session, which cause nearly 100,000 deaths.
He went on to explain the measures his agency tries to reduce the spread of germs and viruses, including in its communications center, where dispatch staff have their own headsets and telephone receivers for every shift.
"It means we don't have to worry so much about cross contamination," Hillier said. "I don't want one sick dispatcher taking out the entire system."
Hillier cited a study conducted at the Naval Health Research Center in San Diego several years ago that highlighted the importance of adequate hand washing. Recruits were shown the basic measures they should take, then ordered to wash their hands five times a day.
Over a one-year period, Hillier said, researchers noted a 45 percent reduction in respiratory illnesses.

Request product info from top EMS Personal Protective Equipment companies
Thank You!