e2v's Argus Thermal Cameras Lend a Hand in the Battle Against Swine Flu
e2v's Argus thermal imaging camera can now be used to easily and clearly identify anyone with a temperature, making it a must have piece of kit for all border control personnel in their battle against swine flu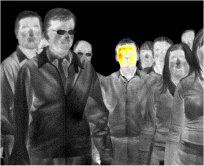 The new ArgusSC uses a combination of direct spot temperature measurement and unique software to immediately identify travellers with raised body temperatures.
Jon Turner, product specialist comments, "We have calibrated the colorisation feature in the camera so that only temperatures associated with a fever are coloured on the screen, normal body temperatures are in a sense filtered out and so remain as black and white images on the screen".
As the Argus SC is a self contained battery powered hand held device with a high performance LCD screen, it can be used at the earliest point of entry into the country. Travellers stepping off a plane or boat can immediately be viewed and assessed by an individual with a camera, moving from one landing area to another as needed.
The camera can also be fix mounted and linked to a larger screen or computer; this allows users the flexibility of permanently setting up at a bottle neck position to view a crowd as they pass by.
"As the threat of swine flu increases, prevention of exposure will become ever more important. It is therefore imperative that border control personnel are equipped with the latest technology." comments John Masheder e2v's Divisional director for Sensors. "The Argus SC has been helping police and security forces for some time now and I am confident this new feature can be of huge benefit in the battle to contain a swine flu outbreak".
For more information about Argus thermal imaging cameras go to www.argusdirect.com or call (UK) +44 (0) 1245 453443, (US) +1 800 342 5338, (Asia) +852 3679 364 8/9.
About e2v
e2v's objective is to be a global leader in the design and supply of specialised components and sub-systems that enable the world's leading systems companies to deliver innovative solutions for medical and science, aerospace and defence, and commercial and industrial markets.
e2v has 4 major product groups:
• High performance electron devices and subsystems for applications including defence electronic countermeasures, radiotherapy cancer treatment, and radar systems
• Advanced Imaging sensors and cameras for applications including industrial process control, dental X-ray systems, space science and life sciences
• Specialist semiconductors, including logic, memory and microprocessors for high reliability mission-critical programs in avionics, defence and telecommunications, sensor data acquisition, and high speed data conversion
• A range of professional sensing products for applications including fire, rescue and security thermal imaging, X-ray spectroscopy, and military surveillance, targeting and guidance
For the year ended 31 March 2008, e2v achieved sales of £205m and is listed on the London Stock Exchange. In October 2008 e2v acquired QP semiconductor, a leading US-based designer and supplier of specialty semiconductor components used in military and aerospace applications, establishing e2v's first US manufacturing base.
The Company is headquartered in the United Kingdom and has approximately 1800 employees in six production facilities across Europe and North America. e2v also operates a global network of sales and technical support offices, supported by local distributors and resellers.
Further information is available from www.e2v.com.