9 strategies for deploying a mass casualty trailer
MCI trailers provide a critical tool for dealing with emergency incidents
---
Updated March 4, 2015
Mass casualty supply trailers are mobile caches of equipment for rapid response to mass casualty incident (MCI) scenes. During an MCI, supplies on responding ambulances may not be adequate for on-scene treatment. Unless those ambulances are unloaded before they initiate transport, many of the extra supplies they contain will not be available for the remainder of the incident.
The primary purpose of an MCI trailer is rapid delivery of supplies for decontamination and personal protection, treatment of life threats, and incident management supplies like tarps, lighting, and long-term patient care supplies like cots and blankets.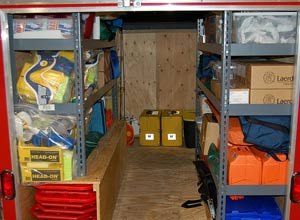 Secondary purposes might include the delivery of supplies for EMS professional sustenance like water, food, and clothing – or treatment of patients with minor injuries like small wounds.
Because of the high cost for the trailer or trailers, as well as the initial equipment, a needs analysis should be conducted to confirm the need for a mass casualty trailer, the size of the trailer, and the contents for the trailer. If the need for a trailer is confirmed, do these things before actually purchasing the trailer and stocking it with supplies:
1. Create or adapt the MCI plan
Create a protocol or adapt the existing MCI plan to specify the type and size of the incident that would trigger deployment of the trailer.
2. Determine storage
Identify locations where the trailer or trailers will be stored and, if needed, agree to mutual aid response agreements for transport of MCI trailers to the incident scene.
3. Include dispatch 
Ensure that the public safety answering point (dispatch center) understands the protocol and has the capability to dispatch an MCI trailer and track its times like any other response resource.
4. Select equipment
Prepare an equipment specifications list that can be submitted to vendors.
5. Conduct a hazard analysis
Most MCI trailers are provisioned for multiple patients that have a trauma mechanism, including patients from a multiple vehicle collision, building collapse, or mass shooting. Work with local and regional emergency responder groups to conduct a hazard analysis for the trailer's response area. Other mechanisms, like chemical exposures, influenza pandemic, or foodborne illnesses may be higher risk and higher probability. The supplies of the trailer should reflect the local hazard analysis.
6. Trailer or supplies 
You can either determine what you want and find a trailer to hold those contents or pick a trailer and then fill it with contents. The amount of supplies will expand to fit the trailer.
7. Cost of restocking
While having lots of supplies may seem advantageous, make sure to consider the cost of restocking outdated supplies or rotating unused inventory off the trailer and into ambulances to use it before it expires.
8. Track use and replace
When a trailer is used during an MCI there will probably be little thought to tracking the equipment used. A plan needs to be in place before deployment for tracking and replacing inventory from the MCI trailer. Also consideration should be given as to how supplies from the trailer will be billed.
9. Educate EMS providers
Finally, educate EMS professionals and other emergency responders about the availability of MCI trailers and their contents. Include deployment of the trailers in all functional and full-scale exercises. After the initial purchase make sure to orient new personnel to the trailers.
What is in your agencies MCI trailer? What advice would you give to an agency considering an MCI trailer?

Request product info from top EMS Equipment companies
Thank You!