Drones for EMS: 5 ways to use a UAV today
Currently available drone technology has the ability to revolutionize situational awareness and improve responder safety
---
By Todd J. LeDuc
The proliferation of drone technology into civilian applications, from their genesis in military operations in the global war on terror to the congressional directive to the Federal Aviation Administration to loosen restrictions for domestic application, has the ability to revolutionize situational awareness and improve responder safety.
EMS has a long history of adapting technologies created for military application for civilian EMS use, such as helicopter medical evacuations, tourniquets, and medical anti-shock trousers. The drone, or unmanned aerial vehicle, also is poised to potentially revolutionize EMS as an eye in the sky safety vehicle and for rapid delivery of potentially lifesaving supplies, self-administered medication and telemetry capabilities to remote areas.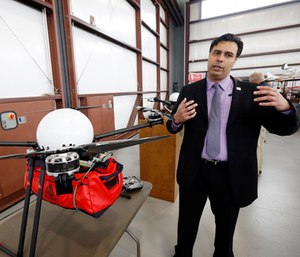 Though it might seem far-fetched EMS must increasingly look at technology emerging from the global war on terror. Here are five ways drones are changing emergency response.
1. Mass gathering monitoring
Incidents of mass care and mass gatherings often present unique logistical challenges for providers and are oftentimes fraught with situational confusion inherent in their very nature. Mass gatherings, such as large concerts or sporting events, particularly those that span large land mass areas such as marathons, present challenges for real-time incident awareness from a command and control perspective.
Historically, mass gatherings have relied on a centralized command post that receives updates from operational sections that are assigned to divisions based on geography or terrain. Oftentimes, EMS incident commanders must visualize and interpret through radio reports to get a better understanding of real-time conditions as they are being observed and then reported back.
2. Real-time incident video
Having access to real-time overhead video surveillance fed from an aerial drone lets incident commanders see conditions on the ground over a large area as they are evolving. This above the ground perspective allows for improved intelligence to make well informed decisions regarding response and mitigation as well as resources.
Additionally, hazardous conditions to responders can more quickly be identified as well as rapidly changing conditions such as wild fire, active shooter, train derailments and natural and man-made disasters. Real-time video offers ability to provide enhance levels of responder and civilian safety.
3. Early warning
First responders often respond to motor vehicle collisions on interstates, highways and other roadways. Operating on these scenes with high speed traffic and increasingly distracted or impaired drivers poses high levels of risk to emergency first responders who are often focused vehicle stabilization and patient extrication, triage, treatment and transport.
Unfortunately, it is not uncommon to read of a first responder struck while operating at the scene of a highway event. Giving EMS the ability to utilize an overhead surveillance drone, deployed upstream of a motor vehicle collision, can act as an overhead early warning system for responders operating below. The drone operator, viewing live video, can identify a high-risk vehicle and call an all clear from the scene before it becomes tragedy. This real-time safety agent as an eye in the sky can be deployed as a matter of protocol to such events.
4. Haul supplies and equipment
EMS responders may find applications for drones as an earlier response tool to provide rapid access to life-saving tools such as tourniquets for victims of penetrating trauma, AEDs for victims of sudden cardiac arrest, or epinephrine auto-injectors for life threatening allergic reactions.
If this all seems far-fetched, Amazon has envisioned orders delivered by drones. Lifesaving, easily administered and timely medical interventions are just as plausible for drone delivery. Feasibility may also be examined in highly dense and traffic-congested urban areas where lifesaving assistance may be hampered.
5. Hazardous area operations
Drones could be used to drop gas monitoring equipment into a hot zone. Drones have already been used to drag a haul line across a river to two stranded swimmers.
As we have often seen with system applications a one-size-fits-all approach usually is not pragmatic. However, a needs assessment and cost-benefit analysis that examines how best this technology like any other emerging asset can be best utilized and cost effective to aid in scene management, patient and provider safety.
About the author
Todd J. LeDuc, MS, CFO, CEM, FIFirE, is a 25-year veteran of Broward County Fire Rescue, in Florida, a career internationally accredited metro department of 750 personnel. He has served in a variety of capacities as a chief officer including deputy chief of operations and currently is chief of health & safety, accreditation and grants. He is secretary of the International Association of Fire Chief's Safety, Health & Survival Section and a peer reviewer for both professional credentialing and agency accreditation by the Center for Public Safety Excellence. He has authored over 100 peer-reviewed publications, lectures frequently and has conducted fire and EMS studies throughout the U.S. and internationally. He can be reached at tjlbcems@aol.com.