EMS World Expo Quick Take: Quantifying community paramedicine success
Gainesville Fire Rescue's Krista Ott and David Sutton share how to tell your story to stakeholders
---
EMS1 reports annually from the EMS World Expo conference, offering takeaways from educational sessions, product announcements and updates from the Expo floor. Catch our coverage here.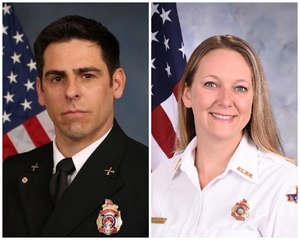 ORLANDO, Fla. — Krista Ott, MSFES/DEM, EMT; and David Sutton, BS, EMT-P, shared how they've quantified success in Gainesville Fire Rescue's Community Paramedicine Program with attendees at EMS World Expo 2022.
Ott, interim community resource paramedicine coordinator, and Sutton, assistant chief, shared the benefits and challenges of metrics and how to tell your story to firefighters, officials and other community stakeholders.
Memorable quotes on community paramedicine
Here are some of the memorable quotes from Ott and Sutton:
"It's not all about driving down admissions – that is an outcome – the goal is to help people." — David Sutton, BS, EMT-P
"It's important to identify the gaps. What are the needs in our community and what are the resources and are the resources able to meet those needs." —  Krista Ott, MSFES/DEM, EMT
"There's a lot of trust that's buried in the primary care compliance metric." — David Sutton, BS, EMT-P
Top takeaways on community paramedicine value
Ott and Sutton shared how their community paramedicine has grown and evolved, and how it's changed perceptions among Gainesville Fire Rescue firefighters. Sutton noted just years ago, he was fielding angry phone calls about high 911 utilizers, one even going so far as to say they should be charged with a crime for 911 abuse. Now, instead he fields calls about when the community paramedics will be able to help these patients in need.
Following are some of their tips for making the most out of a community paramedicine program.
1. A dual purpose for data
Data can help identify changes in community needs over time, and justify additional resources. According to Ott, data goes the distance in showing Gainesville's target audience, including internal stakeholders (i.e., their firefighters, officials and administrative staff), as well as community partners and elected officials that what they're doing is making a difference. "If we don't collect data and collect the right data, it's really hard to ask for grants and additional funding," she explained.
Gainesville collects and distributes monthly, and annual data in dashboards that show trends over time. "We know every day that we're doing more and more but sometimes we don't acknowledge or realize until we look at the data," Ott said. "That matters to your employees. Look at the difference you're making in these numbers."
That data has identified the average community paramedicine patient age is trending down. When the program started, patients were typically in the 50-70 age range. Now, the program is getting more requests for mental health, housing and food insecurity needs in younger and even pediatric patients.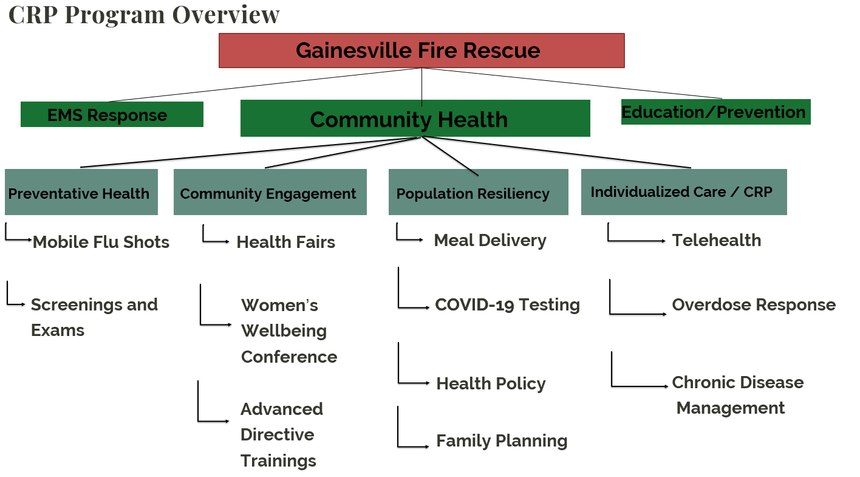 2. Tell the stories
That said, the story matters as much as the numbers, Sutton stressed. He compared having data and numbers to an old-time Western sheriff having a gun on their hip. They know you have it, so you don't need to use it. Instead, those stakeholders want to hear the stories.
Sutton shared he recently greeted a task force of members who traveled to Florida to assist in Hurricane Ian rescue and recovery. They had the numbers – how many people they had rescued, etc. – but what struck Sutton is a story of one. One of the firefighters, just minutes after stepping out of the transport, shared how he had rescued a woman who watched her husband swept away by floodwaters. She had been stuck in her home for 7 days after experiencing this unthinkable tragedy. Sutton found himself deeply impacted by the story and sharing it with others over the next days. That's the power of a story, he noted.
You need to have the data, but once you've demonstrated that you have the data, it doesn't matter to 99% of people, Sutton said. "The stories are what matters."
An important part of telling your story in an impactful way is to package your data in a visually appealing and easy-to-digest manner. Sutton and Ott advise community paramedicine programs to lean on student interns here, when possible. Programs like Canva make it relatively easy to create flyers and newsletters, but the average college student can pull numbers and create a visual in minutes, they reported.
3. Engage primary care physicians
One of the most challenging but impactful elements of Gainesville's community paramedicine success has been engaging primary care physicians. It wasn't easy to get started, Sutton admitted, noting, "We couldn't get past the lobby."
PCPs' frontline office staff were effective gate keepers and Sutton had to engineer a different approach to opening the lines of communication. The team drafted a letter with the Gainesville Fire Rescue seal prominently displayed on page 1. Team members would hand deliver the letters, which stated simply, we are working with your patient. Here are three things we have noticed (e.g., the patient is missing appointments because they don't have transportation) and what you can do to help. If a form was required that would be included as well, Sutton reported. If that didn't work, community paramedic team members would accompany patients to their PCP visits. Getting in the room, with a uniform on, was another way to open those lines of communication, which are now robust. The local primary care physicians have now embraced the program and are referring patients.
4. Community paramedicine is not about driving down admissions
You often hear people talk about community paramedicine programs as designed to weed out high system utilizers and to drive down 911 calls and admissions, Sutton noted.
And, in many cases, that is the result. He shared a case in which a patient was calling 911 multiple times every single day. Ott responded to the home to explore the circumstances, and found that every time the patient tried to get out of bed or out of a chair, they fell. She was able to secure the patient a slide board, and the calls stopped.
The driving force behind many 911 calls is a medium-to-low acuity problem exacerbated by social determinates of health, Sutton noted. Transportation and access is the biggest problem for many, and coordination with primary care solves that in most cases.
Community paramedicine support can resolve many of those low acuity or medium acuity issues and empower patients to take charge of their chronic conditions, preventing complications.
However, in some cases, improving the connection with patients' primary care physicians will result in an increase in calls. The PCP identifies a true need for the patient to be hospitalized. That is appropriate and a good thing, Sutton said. "I'm not afraid of that because at the core of the program, we are supposed to be helping people."
Learn more about community paramedicine
How 4 community paramedicine programs are positively impacting healthcare