What do paramedics do?
Want to become a paramedic? Here's the important stuff
---
If you're thinking of becoming a paramedic, you might be asking yourself the question, what do paramedics do?
Paramedics are the most highly-trained of the class of EMTs (Emergency Medical Technicians) working in the U.S. They take charge at the scene of an emergency and, if necessary, perform life-saving procedures while transporting patients to the hospital.
Since paramedics may administer drugs and perform certain invasive procedures on patients before they arrive at the emergency department, they are sometimes known as the "hands" of emergency doctors on the scene.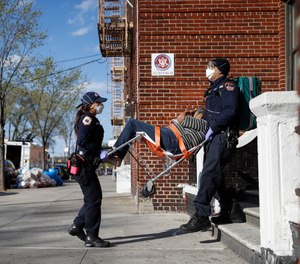 What kind of emergencies do paramedics work?
In EMS, the majority of calls will fall into either medical or trauma situations.
Emergency medical calls usually involve illnesses like heart attacks, severe allergic reactions, labor and delivery and complications from shock. Paramedics can administer a wide variety of medications to soothe patient symptoms until they arrive at the hospital.
Trauma calls usually involve an accident or physical injury. Paramedics will respond to the scenes of car crashes, falls, bar fights and sports injuries. In the wake of recent mass shootings, emergency services providers are increasingly training with police and other agencies to triage and treat multiple critical patients in dangerous scenes.
Paramedics may be required to:
Perform cardiac support for heart attack victims
Perform emergency respiratory procedures for people with blocked airways
Administer IV (intravenous) fluids
Bandage wounds
Stabilize head and neck injuries
Stabilize broken bones
Resuscitate drowning victims
Perform emergency childbirth procedures
Assess health situations
Administer medications
That said, paramedics may sometimes respond to calls that are stranger than fiction. When entering the scene of an emergency, EMS providers must be prepared to deal with whatever comes their way.
What does a paramedic's average day look like?
Paramedics shifts can run from 8 to 48 hours (with a couple days off after), but their rotations are rarely the same from week-to-week. The schedule can be refreshing for people who don't like working a standard 9:00 a.m. to 5:00 p.m..
Becoming a paramedic opens up a lot of opportunities to work outside the ambulance. Many paramedics choose to work for local fire departments. They can also work at ski resorts; on cruise ships; on job sites, such as oil rigs; in national parks; and also on life support or medical helicopters.

In between responding to emergencies, paramedics file reports and fill out forms related to the calls they've been on. When transporting a patient to the hospital, they need to communicate with the staff about the patient's condition and fill them in on any procedures they've performed and medications they've administered.
What does a paramedic do during a shift when they're not responding to an emergency? They occupy themselves with other tasks like restocking their ambulance, ordering supplies, cleaning the ambulance and station house. Depending on where you work, there might also be a lot of downtime in between calls that can be filled with reading, making meals or sleeping.
The best way to get an idea of what paramedics do is to talk with someone who's been in the field for a while and listen to the Inside EMS podcast. They will probably tell you that being a paramedic is an extremely rewarding career choice. 
What important traits do paramedics have?
Paramedic school is no joke. You must be able to solve problems and think on your feet in order to earn your certification. Medics are trained to perform their duties expertly, even in the middle of the night when they've been on the job for 24 hours and haven't had any sleep.
All paramedics must be able to maintain their composure during extremely stressful situations. This trait can be developed over time by honing their clinical skills, building trust with partners and understanding how to roll with the punches at the scene of an emergency.
"We are never completely in control," says firefighter/paramedic Steve Whitehead, "But if we're good at staying calm, taking things in stride and improvising we can almost always maintain the illusion of control."
Despite their intense line of work and excellence in their field, you'll find that the best paramedics are also patient and likeable people. These traits not only help fight burnout, but create an environment where stressed-out patients feel like they're in good hands.
How do I become a paramedic?
Before entering paramedic school, you must get your EMT license. EMTs may still respond to 911 calls in an ambulance, but are more likely to assist paramedics with advanced life-saving techniques rather than perform them on their own.
Depending on what course you enroll in, it can take anywhere from a few weeks to about six months to complete.
Once you receive your EMT certification, you have the option of enrolling in paramedic school. Paramedic training will take anywhere from six months to about two years to complete, but many students continue to work as an EMT while finishing their classes.
If you aren't sure whether or not the job is right for you, or are waiting for classes, you can contact your local fire department to see if they allow citizens to ride out with them on calls. This will give you a firsthand look at what an emergency service provider does, and give you the chance to talk with someone about what they do.
This article, originally published on March 6, 2011, has been updated

Request product info from top EMS Education companies
Thank You!