'Drug Round Game' teaches medication error prevention
The game gives players the opportunity to exchange ideas, participate in interactive discussions on medication safety and to practice drug calculations
---
LONDON — A board game designed to teach health care professionals to understand, recognize, and minimize medication errors has been developed.  
The "Drug Round Game" helps improve players' understanding of what medication errors are, the impact they have on patient safety and why they happen.
The School of Health Sciences at City University London and Health Education England helped Focus Games Ltd. develop the game, which is specifically designed for nurses and other health care professionals who are involved in the administration of medications to patients.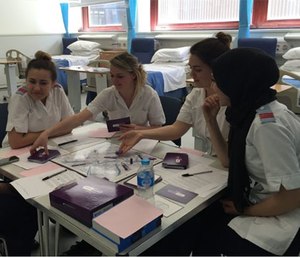 "I have played the 'Drug Round Game' with nursing staff and they became really competitive and it generated very useful discussions," said Diane Last, Clinical Practice and Education Coordinator, West Suffolk NHS Foundation Trust, said:
Patient safety and medication administration are areas of concern for all health care providers, and patients. Most medication errors and overdoses are avoidable with appropriate education and training. The majority of avoidable errors happen when drugs are being administered and it is likely that more effective training can reduce errors by improving knowledge, confidence and dosage calculations.
The "Drug Round Game" is an adaptation of "Snakes and Ladders" and it gives players the opportunity to exchange ideas, participate in interactive discussions relating to medication safety and to practice drug calculations in a safe and relaxed environment. The game has a narrative structure which covers covering specific issues such as the nature of errors and where and how they occur, and also the potential impact of errors on patient safety.
"Knowledge about drugs and when and how to use them is critical for patient well-being and safety," Stan Newman, Dean of the School of Health Sciences at City University London, said. "What better way for health care students to learn than by playing a game."
The game is designed to be played by players on two competing teams. Games usually last 45 to 60 minutes.

Request product info from top EMS Education companies
Thank You!