Resuscitation training ups survival rates
More than 150 attendees took part in the half-day Resuscitation Academy presented at EMS Today
---
More than 150 attendees took part in the half-day Resuscitation Academy presented at EMS Today. Physicians and paramedics from Seattle Medic One and Howard County (Md.) Fire and Rescue Services taught attendees the science and skills to make witnessed ventricular fibrillation a survivable event in every community.
Dr. Mickey Eisenberg started with a presentation on why some communities have a high survival rate for cardiac arrest, why some communities have a low survival rate, and that unfortunately many communities have no idea what their survival rate is. He shared many mantras about building a system that uses cardiac arrest survival as the best metric of performance.
"Everybody survives needs to become a mindset for witnessed v-fib," he said, and that needs to be embraced at all levels of fire and EMS organizations.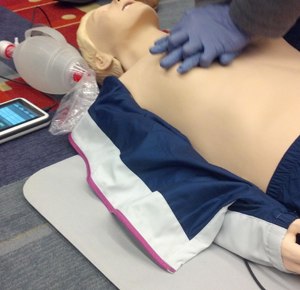 Eisenberg's lecture ended with a vision of the future. When a community commits itself to making cardiac arrest survivable it means:
100 percent of patients receive high-performance CPR
75 percent of patients receive bystander CPR (often because of telecommunicator recognition of cardiac arrest and caller instructions)
50 percent of patients will have an AED applied in less than six minutes
60 percent of patients with witnessed ventricular fibrillation will survive
Full chest recoil
Dr. Peter Kudenchuk talked about the science behind the hands that perform chest compressions. Two points in his presentation really captured my attention.
First was his explanation that chest compressions compress every blood-containing vessel in the chest. CPR instructional videos put the focus on the compression of the heart, but in reality chest compressions also compress and move blood in the major vessels, as well as the coronary and pulmonary vasculature.
Second was his explanation of the systole and diastole of compressions. In ACLS and BLS courses there is emphasis on compression and recoil, but Kudenchuk gave me the final 'aha moment' that I needed. During compression (systole) the brain is perfused. During recoil (diastole) the heart is perfused. Thus, it is important to allow the patient's chest to fully recoil and not lean on the chest between compressions.
Compression Practice, AED practice and more practice
The meat of the workshop was nearly two hours of small-group instruction and practice. Medic One and Howard County paramedics worked with groups of four to five attendees. With the assistance of Laerdal and Physio-Control every group had a CPR feedback manikin, AED or cardiac monitor, and a bag valve mask.
We followed a watch then practice, practice, and more practice format. The Howard County EMS captain assigned to our group provided immediate and useful feedback to help us improve our skills in these four areas of high-performance CPR:
100 to 120 compressions per minute
Compress the chest at least 2 inches
Maintain a compression fraction greater than 80 percent
Allow full chest recoil with no leaning
With the assistance of the captain, real-time compression rate and depth feedback, and teamwork our group increased its high performance CPR skills throughout the workshop. As I neared the end of one of my two-minute chest compression cycles, I realized, a bit sheepishly, that sweat was dripping off my brow and onto the manikin. It was a great reminder that high-performance CPR is hard work and rescuers need to switch position every two minutes.
I highly recommend the half-day Resuscitation Academy for future EMS conferences. I came out of the session more knowledgeable in the science of CPR, more assured of my skills, and excited to contribute to efforts in my community to improve survival from sudden cardiac arrest.