NJ students stress need for stricter CPR requirements
A student-run nonprofit is pushing for a law that requires minors provide proof of CPR training before sitting for a driver's license test
---
By EMS1 Staff
TRENTON, N.J. — A student-led nonprofit group is hoping to increase statewide rules on CPR training requirements.
New Jersey 101.5 reported that the High School Association of Medical Engineers and Scientists is seeking to get a law passed that requires minors to provide proof of CPR and first-aid certification before they are able to sit for a driver's license test.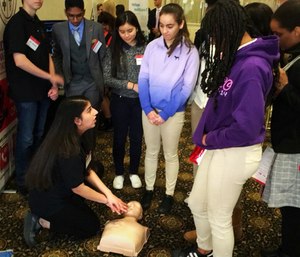 "HAMES mission is to ensure that the entire new generation of drivers is all trained in CPR, AED and first aid," HAMES founder Christian Ventura said. "We're trying to increase the population of first-aid providers."
The law would require a student, regardless of their schooling type, to provide a signed document from an authorized trainer.
The organization is working with legislators to draft a bill, and they have also created an online petition to support the cause.
HAMES also said it would donate CPR classes to high schools throughout the state of New Jersey.