US&R teams respond to Hurricane Gustav aftermath
---
By Jamie Thompson
EMS1 Staff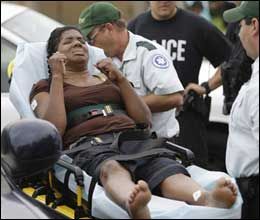 AP Photo/Eric Gay
Paramedics transport New Orleans evacuee Debra Peterson to North Shore Hospital in Slidell, La., Tuesday, after fellow evacuees notified the police that Peterson was having a health crisis. Peterson and her grandchildren left New Orleans to escape Hurricane Gustav.
MENLO PARK, Calif. — Fire Captain Ben Marra has worked in the aftermath of some of the biggest disasters across the United States in the past few years.
As a member of California Task Force 3, Capt. Marra was dispatched to help with rescue efforts in the wake of the Oklahoma City bombing, the 9/11 attacks on the World Trade Center and Hurricane Katrina.
He is currently en route back to the Gulf Coast region following Hurricane Gustav — but this time as the official Task Force 3 Leader.
"It's exciting — you train and spend a lot of years going to different deployments in different positions, but to be in charge of a Task Force is fulfilling after putting in a lot of hard work," he said.
California Task Force 3 is one of five Urban Search and Rescue Teams and eight Swift Water Rescue Teams in the state that have been deployed to the Gulf Coast. They are joining countless teams across the country that are heading to — or are already in — the hurricane-hit area.
There are 28 FEMA Urban Search & Rescue Task Forces in total strategically located throughout the United States, each trained and equipped by FEMA to respond to disasters.
Homes destroyed
Hurricane Gustav caused major damage in Louisiana, destroying homes and flooding some low-lying areas after making landfall Monday.
The storm has now moved inland and skirted New Orleans, where rebuilt levees appear to have held back floodwaters.
Capt. Marra's team from Menlo Park set off for the area early Sunday, and had made Memphis, Tenn., by about Tuesday lunchtime. He said they were waiting to find out their specific assignment, but that significant attention is already being paid to Hurricane Hanna, currently lashing the Bahamas and on course for the U.S. East Coast.
Whichever hurricane they respond to, Capt. Marra is hopeful of one thing — that his team are not too overworked.
"If we're busy, it means there are people out there who are struggling and having a bad time," he said.
"We have experience of water-related incidents so we're confident and ready."
Members of New York City's Task Force 1 were deployed early Saturday in response to the arrival of Hurricane Gustav.
The team, which is comprised of 35 members of the FDNY, NYPD, FDNY EMS and OEM, also worked in the aftermath of Hurricane Katrina.
"The experience that we gained from Katrina, deploying as a team, is really going to benefit us and has already made the team so much more prepared and ready for the potential mission that lies ahead," said FDNY Rescue Battalion Chief Joe Downey.
The National Hurricane Center in Miami said Gustav hit around 9:30 a.m. Monday near Cocodrie, a low-lying community in Louisiana's Cajun country 72 miles southwest of New Orleans, as a Category 2 storm on a scale of 1 to 5. The storm weakened to a Category 1 later in the afternoon. Forecasters had feared the storm would arrive as a devastating Category 4.

Request product info from top EMS Consulting, Management and Legal Services companies
Thank You!