Pulsara unveils 3 new patient-type modules for communication platform
The additional modules include Trauma, Sepsis and Cardiac Arrest, allowing care team members to communicate about patients more efficiently
---

By EMS1 Staff
BOZEMAN, Mont. — Three new modules have been added to Pulsara's mobile-communication platform that allows care team members to relay information about patients based on type.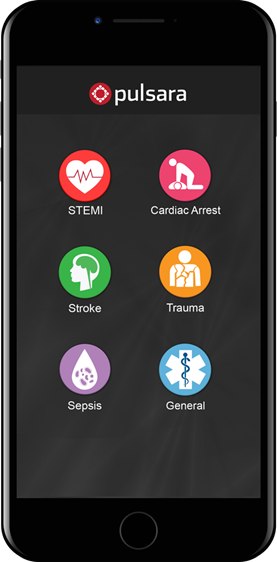 The platform allows the creation of a customized patient channel that all team members can access and share information about through the patient's journey. Last month, Pulsara added Trauma, Sepsis and Cardia Arrest modules that help add clarity to the communication teams.
"The ability to communicate through notifications, images, audio and video on any patient type is critically important for the clinicians," Erich Hannan, Pulsara chief technology officer, said. "The addition of Trauma, Sepsis and Cardiac Arrest modules allows a clear path to get the right information to the right care team for the right patient at the right time."
According to a press release, regions that utilize Pulsara's communication platform boast a 30 percent average reduction in treatment times.
"We are doing many things right in healthcare, but communication silos still cause problems for our teams," James Woodson, M.D., Pulsara found and CEO, said. "By creating a regional system of care, Pulsara is streamlining transparent communication for ALL time-sensitive emergencies throughout the entire patient journey."

Request product info from top EMS Communications companies
Thank You!