Book Excerpt: Welcome to New Orleans … How many shots did you hear?
The author might really miss the addictive, adrenaline pumping action of urban trauma, but he was also deeply moved by the Last Call for a mentor
---
By B.J. Schneider
Last Call for Harold
Some people leave a bigger mark in your life than others and Harold was that kind of person. He was small in stature and large in personality. Harold was one of our day shift rescue guys but he was much more. He was 20 years older than most of us so he had that big brother, big uncle vibe, always friendly and always willing to help. We had a large flock of pigeons that lived in the truck bay and Harold took the time to feed them every day where most others would have ignored them at best. He was also the guy you wanted helping you on a scene. The man had ice water in his veins. You knew things for cool when he was around.
I was just finishing my night shift on a Saturday morning and crews were coming in to work Lollapalooza. I got on my Harley to head out and as I was leaving Harold was coming in. He was a big motorcycle fan and gave me a big smile and a thumbs up. I had no clue that he was suffering with chest pains already and just wasn't sharing this info.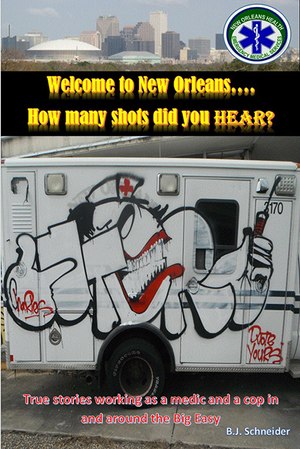 Several hours later he was rushed to the emergency room by his partner and diagnosed with a major heart attack. I come back to work that night to learn that he was in the hospital and it didn't look good.
My partner and I for the night got asked to handle a special transfer. They wanted us to transfer Harold from the Charity hospital where he was rushed earlier that day to Tulane hospital a few blocks away so that the cardiologist there could handle his care.
As we waited in the hallway of the Cardiac Care Unit the frenzy erupts that means only one thing a Cardiac Arrest. Harold had coded. We were right there and there was nothing we could do to help. We were observers in what was normally the game we played. It's a battle that is like rolling back time. Death has already arrived and you try and fight them to back down if only for a while.
Harold was always ready to show a rookie the ropes. I have always tried to be the kind of mentor to others. Just like Harold was to me. It's a legacy that should always be passed on. Harold lost the battle that night and no amount of fighting from him or the valiant staff could turn the tide. We had all lost.
How do you celebrate the life of someone you worked in the trenches? Someone that helped you keep death at bay for hundreds of people but has finally lost their battle. You don't have to do anything. The people come to honor those that made a difference.
The services would be a large affair. The family of medics fire fighters and police always stand together to salute their own in their final rides. There would be representatives from every service in the region a precession of ambulances, fire trucks and police cars that would be miles long. It is a testament to the love we had for him to see so many pay their respects.
Public service has a tradition that is unique do to the nature of our jobs. It is called Last Call. Harold's Unit, 6232, is draped with banners of mourning and driven with lights and no siren from the funeral home as the procession gets close our EMS station dispatch calls for 6232 over the air.
Dispatch gives his unit its last call.
"6232, 6232 respond to 1700 Moss St. (the EMS station) Signal 'Last Call' Code 2."
Charlie Brown a longtime friend of Harold's and the senior rescue stands in to answer the call.
"6232, 10-4, enroute from 3827 Canal St. (The funeral home)"
"10-4 6232"
"6232" Charlie has to stop he is so choked up, "6232 10-97, 10-7 9-29-97"
The quaver in Charlie's voice is felt and shared by everyone on the air. Marking him 10-7 completely out of service and the date of his death is like a slap.
I myself am sobbing and the tears poor down my face. There isn't a dry eye.
Dispatch acknowledges that he is out of service and retires him.
I often think of Harold and how he affected me in my growth in EMS. How he was always an ear to listen and a friend to talk with. He would always take the time to show a rookie the ropes. I have always tried to be the kind of mentor to others that Harold was to me. It's a legacy that should always be passed on.
—
Welcome to New Orleans… How many shots did you hear?
Copyright 2015 B.J. Schneider
Available on Amazon
About the author
B.J. Schneider has been a medic for 26 years, working in and around the city of New Orleans. He currently lives in Gretna, Louisiana, with his wife and children. He works full time as a paramedic and safety manager for a local oil and gas firm.

Request product info from top EMT Books companies
Thank You!