Active shooter response: Equip your team to save more lives
Download this free e-book to learn what training and supplies you need to prepare for a successful response to a mass casualty incident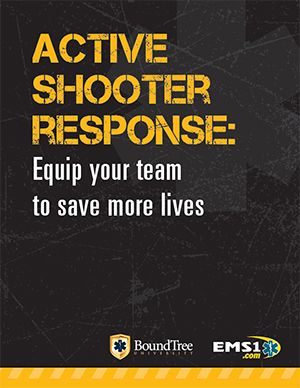 The following is paid content sponsored by Bound Tree University.
At any mass casualty incident, especially one involving an active shooter, emergency responders have two priorities: stop the killing and stop the dying.
Stopping the killing includes planning for terrorism incidents and practicing warm zone entry with law enforcement, as well as equipping EMS providers with appropriate personal protective equipment, like body armor.
Stopping the dying requires preparation for immediate action to provide hemorrhage control and moving patients to collection points for rapid transit to definitive care.
Use this free e-book to better understand how to plan and train for mass casualty incidents and what supplies are needed to improve outcomes.
In this e-book, you'll learn:
How to buy body armor to protect caregivers.
How to organize training to prepare an MCI response.
How to engage the public in preparedness with bleeding control kits.
What you can learn about patient care from military trauma teams.
Where to find resources for grant funding.