Proposed Ala. city ambulance ordinance would impose fees for non-compliance
The ordinance would charge First Response with fees for elevated response times, and situate the agency as being overseen by the city fire department
---
Bayne Hughes
The Decatur Daily, Ala.
DECATUR, Ala. — Decatur City Council President Paige Bibbee said she plans to introduce an overhauled ambulance ordinance that features severe financial penalties for noncompliance at the Aug. 5 work session.
The second reading and vote on the controversial ordinance would then occur at the Aug. 26 meeting, if the proposal stays on track.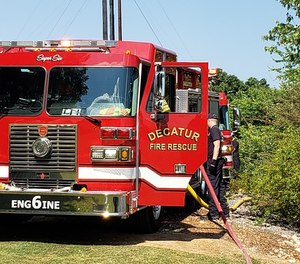 Bibbee said she does not plan to make any changes, especially to its key points, despite First Response Ambulance Service attorney Harold Mooty III sending an 80-plus page document to council members in which he strikes through most of the key measures in the draft emergency medical services ordinance. First Response is the city's sole ambulance service.
She said Mooty's document "is basically the presentation he gave at our work session" on June 8. Mooty promised suggestions on changing the proposed ordinance, and Bibbee delayed further consideration while waiting for his response.
"At this point, I'm happy," Bibbee said Wednesday of the proposed EMS ordinance. "But this is a living document, and we can make changes in the future. My feeling is this new ordinance is very fair."
Councilman Charles Kirby, a critic of the proposed overhaul, said he believes the proposed ordinance is part of a Decatur Fire & Rescue conspiracy to run First Response out of business so the department can take over emergency medical services.
Fire Chief Tony Grande denied Kirby's accusations.
"There's no funding from the council at any time (for the city to start its own service). There's not a conspiracy, period," Grande said.
One of Mooty's objections in the document is to the Fire Department overseeing the EMS ordinance and the city's contracted EMS providers. First Response doesn't like that it would have to answer to a Decatur Fire & Rescue officer, likely a battalion chief, on enforcement and reporting duties.
Kirby said Wednesday the proposed ordinance will pass "and not too long afterwards, you will see an ambulance provider go out of business and the city will end up in court."
Kirby said there's a "whisper campaign" around City Hall because of his longtime, vehement defense of First Response. He denied he's receiving financial or other incentives from the company for this support.
"I don't care about what they think about me," Kirby said. "I'm this passionate when I know I'm right and I know someone else is being wronged. This is a grudge that started with our Legal Department, was passed along to the Fire Department and now it's bled over to (Morgan County) 911."
Councilman Chuck Ard said the city's EMS ordinance "needs to change, but I don't think anybody can say that this is the final form."
Mooty in his June 25 letter criticized city officials for not borrowing from ordinances used in Birmingham, Montgomery, Mobile or Tuscaloosa.
Assistant City Attorney Chip Alexander could not be reached for comment Wednesday, but he said in a recent interview that the EMS committee looked at other city ordinances while writing the proposal.
Mooty crossed out multiple paragraphs throughout the proposed ordinance. While First Response owner Jason Tindal has said he's OK with some fines, Tindal said a $10,000 fine — the amount that would be assessed if response times are too slow over a three-month period — is too much, and Mooty says the fines aren't necessary.
Kirby said the fines are meant to put the ambulance service in financial difficulty.
Bibbee said the fines are meant to change behavior and have to be enough to impact the ambulance service's finances.
City officials were often frustrated because they couldn't force First Response to meet the existing ordinance's requirement of responding to 90% of in-city calls within eight minutes. The proposed ordinance makes no change to the response times required since the current ordinance was adopted in 1998, but it provides enforcement tools missing for the last 21 years.
"If a company can easily absorb those fines, it's not going to change how they operate," Bibbee said.
First Response officials have argued eight minutes is a minute faster than national standards for response times, but Bibbee pointed out that First Response was able to meet the response-time requirement when it first moved into Decatur in 2012 and had to deal with competition from another ambulance service. DEMSI, the other ambulance service, went out of business in 2014.
Ard said he's OK with the city's response-time requirements being more stringent than national standards because that means the city will get good EMS response.
"My goal in all of this is to try to provide the best ambulance care we can for the city of Decatur," Ard said.
———
©2019 The Decatur Daily (Decatur, Ala.)
McClatchy-Tribune News Service

Request product info from top EMS Billing and Administration companies
Thank You!