Mobile stroke ambulances to treat victims in Chicago suburbs
The ambulances will carry CT scanners, cameras for communicating with stroke neurologists and medication that can begin to dissolve clots and restore blood flow to the brain
---
Chicago Tribune
CHICAGO — New types of ambulances will likely speed through the western suburbs soon, in hopes of delivering lifesaving care to stroke victims sooner.
Unlike typical ambulances, the new mobile stroke treatment units of Rush University Medical Center and Northwestern Medicine Central DuPage Hospital will carry CT scanners, cameras for communicating with stroke neurologists from afar and medication that can begin to dissolve clots and restore blood flow to the brain.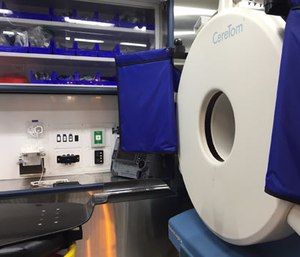 The stroke units will be the first of their kind in the Chicago area and likely among the first dozen or so in the country, said Rush officials who demonstrated Thursday how Rush's unit will work.
Rush's specially outfitted ambulance is expected to serve western suburbs within 5 miles of Rush Oak Park Hospital starting in January. Northwestern's unit likely will start serving six western suburbs — Winfield, West Chicago, Wheaton, Carol Stream, Glen Ellyn and Roselle — before the end of the year, said Northwestern spokesman Christopher King.
Both units still must gain formal approval from the Illinois Department of Public Health.
In Illinois, strokes are the third leading cause of death, and 5,333 people in Illinois died from strokes in 2010, according to the Department of Public Health. Depending on their severity, strokes can cause partial paralysis, weakness and problems with thinking, awareness and memory, among other things.
Strokes most often are caused by clots that block the flow of blood to the brain, though they also can be caused when blood vessels in the brain leak or burst, said Dr. James Conners, section head of cerebrovascular disease at Rush University Medical Center.
Doctors at Rush and Northwestern say the new mobile units could make a huge difference in stroke patients' recoveries by allowing treatment to start sooner.
"Time really is of the essence," Conners said. "For every minute that goes by of a blockage in the brain, you lose about 2 million brain cells."
When someone calls 911 reporting symptoms of a stroke, a mobile unit will be dispatched to the patient along with a typical ambulance. Once the mobile stroke unit arrives, the patient will be assessed and given a CT scan. Rush might sometimes have a stroke neurologist on board its unit who can look at the results, and if no doctor is on board the results will be sent to a remote stroke neurologist. That remote neurologist will also be able to see the patient and talk to the paramedics via a camera in the ambulance. If it's determined the patient is having a stroke caused by a blockage, then the patient will be given clot-dissolving medication.
If the patient is having a stroke caused by bleeding in the brain, the patient will be given medication to treat blood pressure and reverse the effects of any blood-thinning medication that may be in the patient's system.
That patient may then be transported to the nearest hospital. Or, if it's suspected the patient is having a very serious stroke, that patient can get a CT angiogram on board the ambulance and be taken to a comprehensive stroke center, such as Rush University Medical Center or Central DuPage Hospital, for specialized treatment.
On the other hand, if it's determined the patient is not having a stroke, then the mobile stroke unit will leave, letting the traditional ambulance take over. Rush's unit will operate 8 a.m. to 6 p.m., seven days a week. Conners said most strokes occur during the day.
If its mobile stroke unit is a success, Rush might want to buy additional units in the future to serve more of the Chicago area, said Dr. Demetrius Lopes, surgical director of Rush's mobile stroke unit.
The unit cost Rush $950,000, and is expected to cost about $950,000 to $1.2 million a year to run, said Rush spokeswoman Deb Song. An anonymous $4.1 million grant is covering the cost for now. Northwestern's mobile stroke unit will be funded through a grant from the Northwestern Memorial Foundation, King said.
Northwestern's mobile unit also will run seven days a week, from 8 a.m. to 8 p.m.
The unit "allows us to bring services that traditionally have only been available in a hospital directly to a patient," said Dr. Harish Shownkeen, medical director of stroke and neurovascular surgery programs at Central DuPage Hospital, in a statement.
Copyright 2016 Chicago Tribune
All Rights Reserved